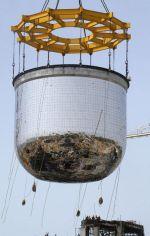 An offer to sell uranium pilfered from India's nuclear facilities by a businessman claiming to be a relative of a Nepalese diplomat set off a flurry of mails between US missions in late 1973.
A series of discussions among US diplomats, consultations with Indian nuclear establishment and tests on samples provided by the Nepalese person, however, revealed that the offer was a hoax.
The Kissinger cables, released by WikiLeaks, gave a glimpse into the hectic exchange of cables and involving India as the purported fissile material was claimed to have smuggled out from nuclear facilities in "Bombay area".
It all started with a cable from the US Embassy in Kathmandu on September 26, 1973, informing officials in the State Department about a Nepalese businessman J C Thakur contacting them and offering to sell up to 3 kg of uranium per month at the rate of USD 40,000 per kilo.
"He indicated that U-235 would be smuggled out to him from nuclear power facilities in Bombay area," the cable said, adding that Thakur had also offered to provide sample for analysis.
Thakur, who claimed to be a brother of Nepal's ambassador to Japan, also told his contact in the US embassy that he would offer uranium to other embassies in Kathmandu, including that of Germany, China and Japan if the US government was not interested in buying it.
Another cable from New Delhi to the State Department sought guidance on bringing the matter to the attention of the Indian government contending that the action could be a "confidence game".
"We believe that leveling with the GoI on this case would contribute to the atmosphere of trust and confidence in which we would like to deal with the Indians on peaceful uses of nuclear energy," it said.