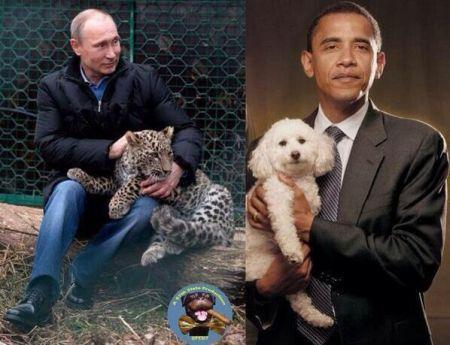 A picture of United States President Barack Obama with a poodle posing alongside Russian President Vladimir Putin with a leopard was recently published by the Kremlin to show which head of state was stronger.
Russia's deputy Prime Minister Dmitry Rogozin then tweeted the picture.
The peculiar display of one-upmanship was captioned 'We have different values ​​and allies,' making it clear what the Kremlin thinks of the US president and his Western counterparts amid heightened tensions following the shooting down of flight MH17 in Ukraine, which left 298 people dead.
Rogozin's image has so far been retweeted more than 1,000 times and is the latest attempt by Russian officials to present Putin as an ultra-manly figure.
He has previously posed for staged photographs topless on horseback, swimming at sea, embracing a polar bear and hang-gliding with migratory birds.
Rogozin's mocking tweet comes after EU countries and the United States tightened sanctions on Russia over its role in the Ukraine crisis. Russia has been accused of supporting anti-government forces in the east of Ukraine
Image: The photograph tweeted by Russia's deputy Prime Minister Dmitry Rogozin. Photograph: @rogozin/Twitter