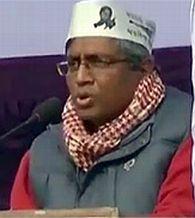 The Aam Aadmi Party on Saturday said that they will put up a strong candidate against Gujarat Chief Minister Narendra Modi in the forthcoming Lok Sabha polls.
The party will also launch a 'zaadu (broom) yatra' in Gujarat from Sunday as part of its campaign for the Lok Sabha elections.
"We will put a very strong candidate against the Gujarat chief minister," party leader Ashutosh said in response to a query.
The AAP has already announced that they will field poet-turned-leader Kumar Vishwas against Congress vice-president Rahul Gandhi from Amethi.
"Modi's claims about development are all humbug. He is harping on development, but I have visited areas of the city where there is no development. Heaps of garbage are lying there and people are not getting basic facilities," he said.
"I would like to ask the chief minister what happened to his poll promise to make 50 lakh affordable houses for the urban poor. Have they constructed even one house? If they have, they should show it to us," Ashutosh said.
He said that the party will not tie up with either the Congress or the Bharatiya Janata Party after the Lok Sabha polls.
The journalist-turned-politician also staunchly defended Delhi Chief Minister Arvind Kejriwal for his recent dharna in the national capital, pointing that the Constitution does not say that a chief minister cannot participate in a protest.
"Ours is a new party. We can make mistakes, but the media should draw our attention to them so that we can rectify them," he said.
The Zaadu yatra will be simultaneously taken out over the next four days by different groups of AAP volunteers in all the 26 Lok Sabha constituencies of the state.
They will merge in a rally in Gandhinagar on January 30. The AAP has attracted 2.5 lakh members in the state so far.