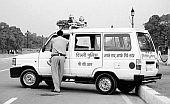 The Delhi Police on Saturday refuted allegations levelled by the male friend of the 23-year-old medical student who was gang-raped and brutally beaten up on a moving bus in South Delhi on December 16.
The friend had alleged that the policemen argued over jurisdictional area, losing precious time that might have proven crucial in saving her.
In a short explanation, the Delhi Police said that the Police Control Room van got the first call at 10:22 pm that night of two people, including a woman, were lying on the road in a pool of blood.
Joint Commissioner of Police Vivek Gogia said: "I want to make it clear that PCR vans do not come under any jurisdiction. They receive a distress call and help the victim. Within less then half an hour the victims were admitted to the Safdarjung hospital. Since the matter is sub-judice, I cannot discuss the matter any further."
"The PCR call was received at 10:22:20. The call was broadcast to PCR vans and Van Z-54 was directed to spot. Meanwhile, PCR van E-42 reached the spot on its own at 10:26 -- in four minutes. Van Z-54 reached spot at 10:28 i.e. within 5.5 minutes of the call. It left the spot with victims at 10:31 i.e. within three minutes. It reached Safdarjung Hospital within 24 minutes at 10:55. All records as per GPS (Global Positioning System)," the Delhi Police said in a statement.

Defending the police's move to bring the badly injured braveheart and her friend to Safdarjung Hospital, Gogia said, "Multidisciplinary hospitals (like Safdarjung) have an advantage while transporting the victims for treatment. It is a government hospital. Many experts can be called there when required. Keeping these things in mind, a protocol has been made."
The witness, an engineering student, had said that instead of taking both the braveheart and himself to a nearby hospital, the police had decided to take them to Safdarjung Hospital, which was far away from Mahipalpur flyover, where the two had been dumped by the six accused from a moving bus after the 30 minutes torture.
Gogia also rejected claims that the duo were without any cloths. "We borrowed bed sheets from nearest hospital in Mahipalpur and then rushed them to the Safdarjung hospital. The male victim was given first aid and then allowed go go. We kept him informed right through as it was required".