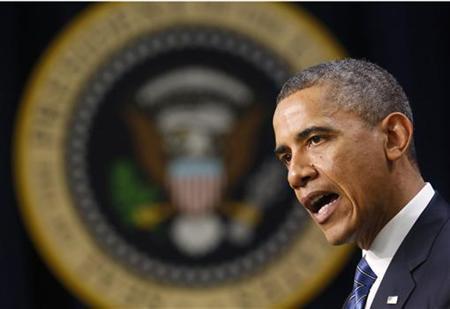 United States President Barack Obama has said he used to get up every morning before sunrise for studies during school days but was an "irresponsible" student.
Obama on Thursday said that as a young child, he used to wake up everyday early in the morning at 4:30-5.00 am for studies while they were living abroad so that he can keep pace with the American education system.
He said his mother understood the importance of education in one's life.
"We lived overseas for a time, but my mother emphasised even then, even when I was six, seven, eight years old, that your ticket is an education. And because I was living
overseas, she was worried that I'd fall behind," Obama told an audience in Tennessee where he delivered a major policy speech on education.
"So she used to wake me up before sunrise to do my correspondence courses, to make sure I was keeping up with my American schooling, before I went to school over there. And if you're seven and eight and you're waking up at 4:30 am-5:00 am in the morning, you don't feel real good," the President said amid a round of laughter from the audience.
Obama said he did not enjoy getting up early and used to complain about it.
"You're not happy. And so I'd grumble and complain. And she'd say, "Listen, this is no picnic for me either, buster". But she understood that if her son, and later her daughter, my sister, got a good education, even if we didn't have a lot, then the world would open up to us," the US president said.

Referring to the students present at the venue, Obama said he was not very different than a lot of the people who were there. "Except probably I was more irresponsible," he said.

"I was raised by a single mom, with the help of my grandmother and my grandfather. We didn't have a lot of money and sometimes my mom was struggling because she was raising two kids and also trying to go to school herself.
"With that support structure that started at home, but then extended to teachers and communities and a country that was willing to give scholarships, and folks who were willing to give me a helping hand and sometimes give me second chances when I made mistakes -- through all of that I was able to go to some of the best colleges in the country, even though we didn't have a lot of money," Obama said.
"Michelle, my wife, the daughter of a blue-collar worker and a secretary, was able to go to some of the best schools in the country. We were able to achieve things that our parents and our grandparents could have never imagined, could have never dreamed of.
"And I want every young person in America to have that same chance. Every single one," he said.