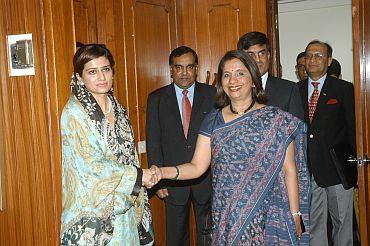 India on Friday made it clear to Pakistan that resolution of the Kashmir issue cannot take place under the "shadow of gun" as the two countries concluded "satisfactory" talks which resulted in agreement on various confidence building measures.
Two days of talks between Foreign Secretary Nirupama Rao and her counterpart Salman Bashir ended in Islamabad on a positive note paving the way for discussions between foreign ministers of the two countries in New Delhi next month.
India pressed for "satisfactory closure" of the trial in Pakistan of Mumbai terror attack accused, saying it would help in normalisation of ties.
Pakistan wanted terrorism issue to be addressed in a "collaborative" manner.
At a joint press conference at the Pakistan Foreign Office, Rao and Bashir struck a positive tone describing their discussions as "very constructive and purposeful".
Various nuclear and conventional CBMs were discussed during the talks and it was agreed to convene separate expert-level meetings on these subjects to strengthen the existing arrangements and consider additional measures later this year.
Both sides agreed to convene a meeting of the Working Group on Cross-LoC CBMs to recommend measures for strengthening and streamlining the existing trade and travel arrangements across the LoC and propose modalities for introducing additional Cross-LoC CBMs.
The group will meet next month. The Indian foreign secretary made a pointed reference to the need to do away with "shadow of the gun and extremist violence" while dealing with the "complex issue" of Jammu and Kashmir.
"I think we have to make peace and reconciliation step by step...We must do away with the shadow of gun and extremist violence because it is only in an atmosphere free of terror and violence that we can discuss resolution of such a complex issue."
She also said the "unleashing of violence" should end as "military conflict" has no space in 21st century.
It should be replaced by a "vocabulary of peace" for resolution of issues in an atmosphere "free from terror and violence". Bashir said the two sides made their "well-known" positions on the Kashmir issue, nonetheless they agreed to continue discussions to find a common ground. It did not mean that anybody has changed the position, he said. "We have tried to move forward," he added.
The joint statement said the foreign secretaries exchanged views on the issue of Jammu and Kashmir and agreed to continue discussions in a "purposeful and forward looking manner with the view to finding a peaceful solution by narrowing divergences and building convergences".
Referring to cross-LoC CBMs, Bashir said that these were aimed at creating "more comfort and relief" to Jammu and Kashmir.
Image: Foreign Secretary Nirupama Rao with Pakistan Minister of State for Foreign Affairs Hina Rabbani Khar in Islamabad