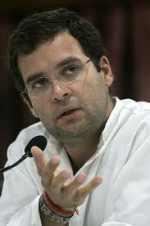 Rahul Gandhi on Wednesday assumed charge as Congress vice president with an assertion that he wanted to do positive politics, as it will take the country forward.
Rahul, who was elevated to the post at the party's Jaipur 'Chintan Shivir' last weekend, said the political environment and the type of discussions on it are "extremely acrimonious".
"I don't want to get into negative politics. I don't want to be critical of everybody. I want to get into positive politics. Positive politics is what is going to take this country forward. Negative politics is not going to take this country forward," he told reporters.
Commenting on the present state of politics, he said, "The environment of our politics and the types of discussions that we have in politics are extremely acrimonious. We are always fighting with each other."
Rahul observed that fight often takes place over the same things.
He, however, claimed that the Congress party is the "most powerful instrument" to change things in the country and bring youngsters into politics. He said only the Congress can bring transformation in the country.
"I think the Congress party is the best instrument to change things. It's the best instrument to bring youngsters into politics and I think it is the most powerful instrument."
Rahul said he intends to make the Congress, "accessible to as many youngsters and experienced people as possible and try and use this instrument to change this country."
Asked what his message is to Tamil Nadu, he said it is the same for the country, including Andhra Pradesh. "The message to Tamil Nadu is the same as the message to rest of India. Same message to Andhra as the rest of India," he said.