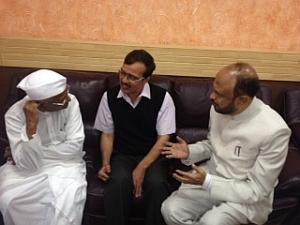 In a first of a kind meeting, social crusader Anna Hazare and former Chief Minister of Assam, Prafulla Kumar Mahanta came together on Monday. They discussed conditions in Assam, and in particular, the issue of Bangladeshi immigrants. Hazare asserted that the vote-bank politics has taken a toll on the life of common citizens and the government at the Centre has to mend its policies towards north-eastern states.
Mahanta, who was in Pune for the Bhupen Hazarika Award ceremony on Sunday, left for Guwahati on Monday. The meeting between the two took place on airport which lasted for about an hour.
Speaking at the occasion, Hazare said, "The issue of Assam has assumed larger proportions because of the vote bank policies adopted by the different political parties. If they are not shunned now, it would have a disastrous impact on the state and the country as a whole.
"I know Assamese people are very peace loving and good hearted. However, they are suffering because of disturbances caused by the immigrants. Recent violence has only highlighted this fact." Hazare assured that if need be, he will take any initiative to improve the conditions.
On his part, Mahanta admitted that he could not deliver the expected results when he came to power. He also explained that the agitation carried under his leadership in 1980s was against illegal immigrants.
"Even today, some people in Assam say they are against all immigrants but I want to clarify that we are not against all immigrants. Those who came before 1971 can live here but those who came later must be deported. We tried to do this when we were in power, but after a certain limit, the issue goes in the realm of the Union government and we were helpless in that respect," he said.
On Hazare's pet issue of corruption, Mahanta said that one of the reasons for the detriment of Assam is corruption.
"Corporate and government, both in the state and the Centre, are hand-in-glove with each other. In the process, the common man is being looted," he said, promising support on many issues to Hazare's agitation. However, he stopped short of committing completely to Hazare's agenda of Jan Lok Pal and anti-corruption.
Picture: Social crusader Anna Hazare talks to former Chief Minister of Assam Prafulla Mahanta (right). Also seen is Sanjay Nahara, president of Sarhad.