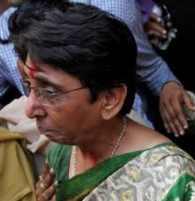 Vishwa Hindu Parishad's Gujarat unit had opposed the move of the state government to seek death penalty for former minister Maya Kodnani and others in the 2002 post-Godhra riots case, Parishad leader Pravin Togadia said on Wednesday.
"We had opposed the move of the state government to challenge the verdict of the trial court in Naroda Patiya riots which sentenced Kodnani to life imprisonment and was to appeal for capital punishment," Togadia told reporters in Nagpur. Kodnani is innocent and was not present at the scene, he claimed.
Under attack from right wing forces, the Gujarat government on Tuesday kept on hold its decision to seek death penalty for Kodnani, Babu Bajrangi and eight others in the 2002 Naroda Patiya riots case - in which 96 people were killed.
Kodnani, who was earlier a minister in the Modi government, was sentenced to 28 years in prison by a special court in August 2012 while Bajrang Dal activist Babu Bajrangi was sentenced to jail for his entire life, while eight others were given 31 years' jail term each in the same case.
When asked about projection of Narendra Modi as the prime ministerial candidate for the BJP in the next general elections, he said it will be too early for any political party to project a candidate. He said since 1952, no political party has ever projected a prime ministerial candidate.
Both the BJP and Congress are competing with each other on the issue of secularism, but people will prefer the Congress on secular credentials, he expressed. He said the VHP will extend support to those who protect the interests of 100 crore Hindus in the country.
"Our stand is clear, we are for Hindus and Hindutva," he said while replying to a question whether the VHP was going slow on the Ram temple issue. He said there was no change in their plans and a conclave of saints and seers will be held in Haridwar next month to chalk out further plan on the Ram temple issue.
Togadia evaded reply on reasons behind BJP's poor show in the Karnataka assembly polls. He also said that in view of the growing incidents of atrocities against women and girls, the VHP would be organising self- defence camps for them shortly.