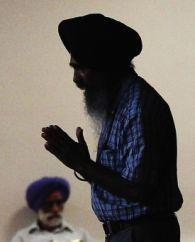 The graffiti painted on the wall of the Gurdwara in Southern California on July 29 has once again proved that Sikhs are a target of mistaken identity, says president of Riverside Gurdwara.
"This is a hate crime," Gurpreet Singh, president of the Gurdwara located 55 miles east of Los Angeles told rediff.com.
"The gurdwara was vandalised on the night of July 29. The word 'terrorist' was spray painted on the back wall of the Gurdwara," said Singh.
He said a complaint has been filed at the Riverside sheriff department. Singh said the sheriff's office feels it is the work of a few local school boys because a few houses in the area have been targeted as well.
"We had a meeting with the FBI and police yesterday. This incident is shocking," Singh said.
The gurdwara has security cameras on the side and front gate but not at the back. They now plan to install cameras at the back as well and have also hired security guards for night vigilance.
A longtime volunteer (who calls himself sevak) at Gurdwara Naib Singh told rediff.com that Sikhs are a target of mistaken identity.
"It's sad they still, after so many years, consider us like Afghanistan," said Singh referring to the September 11 terror attack.
He said, "After 9/11 there were people who used to call us "Osama" and "we hate you" but all that had stopped. "Everything was normal but why again this had happened we do not know," Singh said.
The Sikh American Legal Defense and Education Fund called the incident horrible.
"It is horrible to see an attack of hate on a place of worship as we reflect on the lives lost one year ago during the attack on the Oak Creek Gurdwara. Attacks and vandalism against any of the nation's houses of worship must be condemned by all Americans. These acts strike the very foundation of religious tolerance, a fundamental freedom this country was built upon," said SALDEF Executive Director Jasjit Singh.
"We call upon local and federal law enforcement agencies to rightfully classify this incident as a hate crime and bring the perpetrators to justice to show that hate and violence are not tolerated in our society."