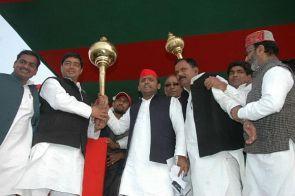 Prolonged parleys with different power centers led to several hiccups before Uttar Pradesh Chief Minister Akhilesh Yadav could induct four new faces in his team in Lucknow on Thursday. The total tally of council of ministers is now 60.
The tug-of-war between the power centers continued until the last minute. Even the swearing-in ceremony by Governor B L Joshi at the Raj Bhawan was delayed by more than 45 minutes -- something described by the officials as "unprecedented."
The organisers attributed the delay to "late arrival" of one of the new entrants in the ministry, but sources said that Ram Murti Verma, the MLA from Ambedkar Nagar was informed about his induction only around 8 on Wednesday morning. The 180 km drive from the town was bound to take nearly three hours.
Verma was sworn in as a cabinet minister along with two others -- Narad Rai and Kailash Yadav -- who were administered the oath of office and secrecy as cabinet rank ministers.
The fourth was Gayatri Prasad Prajapati, who was given the rank of minister of state.
Akhilesh was understood to have finalised the induction of Yasser Shah, who was to replace his father and Labour Minister Waqar Ahmad Shah. Waqar Ahmad Shah has been in a nearly vegetative state and hospitalised at Sanjay Gandhi Post Graduate Institute of Medical Sciences for the past several months. However, a stringer lobby within the Samajwadi Party managed to prevail over SP supremo Mulayam Singh Yadav and the berth was eventually given to Verma.
While it was felt that Akhilesh would have a better say in what was the fourth expansion since the formation of his government in March 2012, it was the father who finally had his way.
Whether Akhilesh is allowed to make top-level changes in the administrative set up, remains to be seen. The existing administrative team is believed to have been handpicked by Mulayam, who is seen as some kind of 'super chief minister'. Akhilesh's uncles Shivpal Yadav, Ram Gopal Yadav and 'chacha' Azam Khan are clearly parallel power centers.