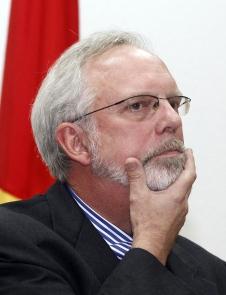 The relation between India and China has broad influence on Asia's security and the United States will continue to engage with them to encourage regional stability, the nominee for the Pentagon's top policy post for the Asia-Pacific region said.
"The relationship between these two rising powers -- both engaged in serious military modernisation efforts -- has broad influence on greater regional security," David Shear, nominee for assistant secretary of defense for Asian and Pacific security affairs, told lawmakers.
"We are pleased to see high-level visits over the last year as well as increased economic and commercial engagement, and we will continue our engagement with both countries to encourage positive contributions to Asian stability and security," he said.
Responding to a question, Shear said as with the US, China's military modernisation presents both challenges and opportunities for India.
He also said, the Indo-US defence relations play a key role in advancing strategic bilateral partnership,"The United States is investing in a long-term relationship with India -- what the (US) president has called one of the defining partnerships of the 21st century -- and our bilateral defence relations play a key role in advancing this strategic partnership," he said.
"I know that the secretary of defense is committed to continuing to build a relationship where close cooperation with India is normal, expected, and routine in areas such as joint military exercises, defence trade, as well as co-production and co-development of defence articles," Shear said in a written submission to the Senate Armed Services Committee.
"If confirmed, I would work to support this commitment and to build upon the progress made by former Deputy Secretary Carter in taking our already strong defence relationship to the next level," he said.
Noting that the Pentagon does not have direct equities in the civil nuclear agreement, he said the deal shows that big leaps forward are often possible with India -- which extends to security cooperation.
"Of note, the 2005-2006 defence cooperation agreement that set the course for the bilateral defence relationship was signed the same year as the civil nuclear agreement, and the past decade has seen an incredible increase in military-to-military engagement, senior-level interactions, and defence trade," he said.
When asked on his assessment of the current relationship between India and Pakistan, he said the US does not view the security situation in South Asia as a "zero sum" game between the two nations.
"We value our relationship with each country. We believe that peaceful cooperation between India and Pakistan benefits the entire region, and are hopeful that the two countries can focus on confidence-building measures that help resolve tensions peacefully," he said.
"Regional security cannot be achieved in isolation, and we believe that Afghanistan must build positive relationships with all of its neighbors," he said.
"India and Afghanistan have their own bilateral relationship; we do not view this partnership as any kind of threat to Pakistan, and we have continued to encourage India to be transparent with Pakistan on this relationship," he said.
"As for lasting security in Afghanistan, if confirmed, I would encourage Indian leadership to provide continued support to Afghanistan through trade and investment, reconstruction, and assistance to the Afghan Security Forces," Shear said.
Image: David Shear, nominee for assistant secretary of defense for Asian and Pacific security affairs. Photograph: Reuters/Kham