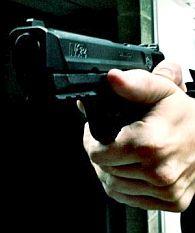 In a prank that turned fatal, an 18-year-old high school graduate in Colorado, United States was shot and killed allegedly by a close family friend.

A Fox News KDVR news report quoting Longmont Times-Call, said that Premila Lal, the victim, was supposed to attend NiwotHigh School's homecoming football game with her 12-year-old cousin on September 6, but instead decided to sneak inside her family's home.
Her parents, who are in the process of moving to the family to another home in the area to be closer to ailing family members, were not at the Cambridge Drive residence when Premila and her cousin entered.
The victim's father Praveen Lal, according to reports, left his 15-year-old son and family friend Narrek Galley, 21, to watch the house.

Premila and the cousin hid in a closet and started making noises to scare the two. Galley gave a gun to the teen as they proceeded to search the house. When Galley found out the source of the sounds, he fired his gun, striking Premila, , the reports said.

Police believe Galley shot Premila because he thought she was an intruder.

'I heard a girl screaming from inside the house. So, I looked out and I saw them coming out. There were three guys and a girl. And they were all running out of the house, screaming, 'Hurry, hurry. We have got to go,' neighbour Elaine Haddox was quoted as saying by KDVR.
Praveen said Galley and his son brought Premila to LongmontUnitedHospital, where she was later pronounced dead.
'He carried her, right to the ER table. After that, the cops separated everybody and I didn't see him.'
Galley was arrested by the police and charged with suspicion of providing a firearm to a juvenile, child abuse and reckless endangerment. He is scheduled to appear in BoulderCounty court this afternoon, and police are investigating whether or not to charge him with killing Premila.
'The 21-year-old let a juvenile male have possession of a handgun without the parent's permission. That is a felony crime in our state,' Longmont Police Cmdr. Jeff Satur was by KDVR as saying. Praveen said Galley and Premila were close friends.

'I just want to go and tell him we can feel his pain,' Praveen said.
The Niwot cross-country team ran a meet Saturday morning in Premila's honour, writing the initials 'PL' on their legs, KDVR reported.