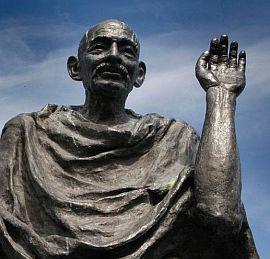 Mahatma Gandhi's statue in the American city of San Fransisco, which has been vandalised on a couple of times, is set to go in for a makeover in the coming weeks.
The statue installed at the Ferry Building Plaza in San Francisco was targeted in October last year when unidentified people broke the walking staff and again past February snapped his glasses.

Whether it was the people behind the broken staff or a structural flaw, the reason is not known yet but according to the San Francisco Arts Commission the investigation is on going.
The portrait sculpture of Gandhi by artist Zlatko Paunov was given to the City of San Francisco in 1988 by the Gandhi Memorial International Foundation, whose president then was a man named Yogesh Gandhi.

The Arts Commission approved the design of the sculpture and the Port Commission approved the location of its installation at theFerryBuildingPlaza. The Board of Supervisors then accepted the gift by resolution in May 1988. The gift was valued at $120,000.
Pietro Mussi, owner Artworks Foundry in Berkeley who has been given the contract to fix the statue does not think that it was structural flaw.

"This one is vandalized because this one can break only if you try to break it, it is made of bronze," Mussi told rediff.com.
He added, "It does not break because of weather. It got to be something… somebody wanted to break it."

He said the Mahatma Gandhi statue is made of bronze, so even to break it you have to put lever on it.

To make the walking staff stronger, Mussi said: "We would reinforce it with stainless steel inside and it will be very difficult to break."

Talking about the glass issue he said that too will be welded to the face, so that they cannot break it again.
In the coming weeks, the Artworks Foundry will include replacing the glasses, repairing or recasting the staff and an overall cleaning. The final estimate is yet to come from the Foundry, but it is anticipated the total cost for welding of the glasses, staff and cleaning to be about $5000 and the restoration will be complete by the end of April.