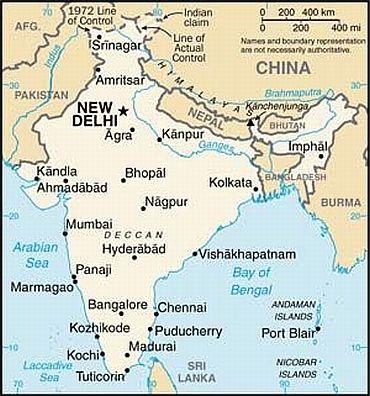 The US State Department has posted a new map of India on its website reflecting its long-standing position on the country's geographical boundaries, acknowledging that it had earlier made a "goof up" that triggered strong protest from New Delhi.

"We made a goof up and we fixed it and we're now back in compliance with our own cartographical policy," State Department spokesperson Victoria Nuland told media persons at her daily news conference.

Her remarks came as she announced the posting of the new and corrected maps of India on the website of the State Department and its travel-related sites.

The previous controversial maps, which showed portions of Jammu and Kashmir as part of Pakistan, were removed by the State Department in November after India's strong objection.

India maintains that the entire state of Jammu and Kashmir is an integral part of the country.

"I'm thrilled and relieved to tell you that we have now put the revised maps up on our website," Nuland said.

"What you will see when you look at these maps is that they reflect the fact that the United States takes no position on the dispute and urges all the parties to seek a peaceful resolution to resolving the claims," she said.

"What you'll see on the maps is consistent with what the US geographic position has been consistently: that there is a dashed line representing the 1972 Line of Control, reflecting Kashmir's unresolved status," Nuland said.

"We neglected to actually label that dotted line in the last round of maps. It has now been labeled. The maps also add our standard disclaimer with regard to Kashmir that says that names and boundary representations are not necessarily authoritative. As I said, that reflects the fact that this is in dispute and the US takes no position on the dispute," she said.