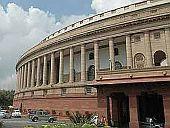 The Wal-Mart lobbying issue rocked Parliament for the second day on Tuesday, prompting the government to declare that it had no hesitation in ordering a probe into reports that the retail giant had spent money to further its case in India.
"We have no hesitation in having an inquiry to get to the facts of the matter. We will announce further steps in the House today," Parliamentary Affairs Minister Kamal Nath said in the Lok Sabha.
The government "views the reports (on Wal-Mart) with the utmost concern," Nath said.
His statement came close on the heels of senior Bharatiya Janata Party leader Yashwant Sinha demanding a time-bound judicial inquiry into reports that Wal-Mart engaged lobbying firms to get entry into India and "spent money here".
The inquiry should be completed within 60 days and people should know who has been bribed and how much that person has got, Sinha said amid cries of "shame, shame" from the Opposition benches.
Noting that there have been "gross financial irregularities" in Wal-Mart -- leading to the suspension of its chief financial officer in India and the initiation of a probe against them in the United States -- Sinha said, "This has sullied the dignity of our country."
"These disclosures have made it clear that they have given money to people here to gain entry in India. An inquiry is going on in the US on this issue. But there is no inquiry in
India. People have taken money and are sitting tight," the BJP leader said.
Trouble broke out when Speaker Meira Kumar called Kamal Nath to respond. This led to Left and Trinamool Congress members to storm the Well, demanding that they too be allowed to speak.
The issue created an uproar in the Rajya Sabha, which saw two adjournments with BJP members, supported by members of the Left parties and Trinamool Congress, raising the issue.
United Progressive Alliance chairperson Sonia Gandhi was seen nudging Leader of the Lok Sabha Sushilkumar Shinde to make an announcement that Kamal Nath would be making a statement on the Wal-Mart issue.
Nath said, "We have learnt from press reports of the reported disclosure by Wal-Mart under US laws on amounts spent by them on lobbying in various countries, including India. The government views this with utmost concern and has no hesitation in ordering an enquiry on this in as much as it concerns payments made in India."
  
Making an almost identical statement in the Rajya Sabha, Nath said, "We too have learnt about the disclosures by Wal-Mart. The government views this with concern and has no hesitation in having an inquiry. We want to get to the facts of the matter. The government is not running away on this concern. We are open for a discussion. This is not a matter of concern for the Opposition; it is also a matter of concern for the government. It is for all of us. We are open for a probe."
 
He said he would come out with a detailed statement later in the day.
The matter was raised in the Upper House by BJP member M Venkaiah Naidu, who demanded an independent probe into the issue.
  
"It is a question of our nation's sovereignty. It is a shameful act. We have to have a detailed discussion," Naidu said, adding the matter was even more serious if the money was spent in the US for lobbying in India.
 
Demanding a probe, senior Communist Party of India - Marxist leader Sitaram Yechury said, "This is a serious matter. This is something unacceptable."
He announced that he would move a notice for a short-duration discussion on the issue.
As the din continued, Ansari adjourned the House for 30 minutes and again adjourned it till noon as similar scenes continued.