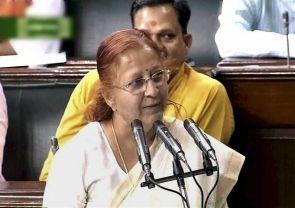 Upping the ante on the Lok Sabha Leader of Opposition issue, Congress and its allies on Monday said they will write to Speaker Sumitra Mahajan seeking an immediate decision in the matter.
Party spokesman Anand Sharma said that Congress would exercise all options to ensure a "democratically correct and logical conclusion" to the issue and did not rule out the possibility of approaching courts in the matter.
"There is no doubt about that... No ruling of the Speaker can substitute or override an Act of Parliament. Anybody saying so lacks elementary understanding of the law and the statute," Sharma said when asked whether the Speaker was acting at the behest of BJP.
Sharma's remarks came at the AICC briefing on the first day of the Budget Session of Parliament after Congress chief Sonia Gandhi earlier made a strong pitch for the party being given the post.
"We are the single-largest party. We have got a pre-poll alliance. Hence, we are entitled to the Leader of Opposition's post," Gandhi, who is also the CPP Chairperson, said in her first comments on the issue.
Sharma said that the letter is ready and will be sent to the Speaker after all UPA MPs had signed it.
"Government's intention is not correct. The thinking is undemocratic... Government is trying to subvert the appointments of Lokpal, CVC and other key posts by denying the LoP status to Congress. We will not allow that to happen. We will take all the steps in Parliament and agitate on whatever forum is available. But let the reply of the Speaker come first," he added.
Sharma's remarks on the Speaker's role in the matter came a day after senior party leader Kamal Nath charged that the Mahajan's decision regarding the Leader of Opposition's post could be "flavoured" by BJP.