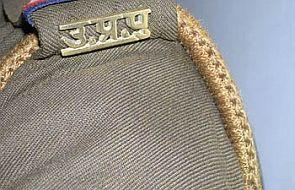 Bad policing claimed yet another life in Uttar Pradesh on Monday when a teenaged boy succumbed to injuries sustained in merciless beating by cops in a rural police station of Ghazipur district, about 350 km from Lucknow.
Eighteen-year-old Ghanshyam was picked by local cops from his house on Sunday and confined inside the Jangipur police station on the outskirts of Ghazipur town, on the suspicion that he had some role to play in the elopement of a girl along with her boyfriend.

Simply because Ghanshyam and the boy were good friends, the police took it for granted that he would know the eloped couple's whereabouts.
All his pleading that he was completely ignorant fell on deaf ears and the cops subjected him to third-degree torture in their bid to gather information while they made no other effort to hunt the missing boy and girl.
The victim's mother told local reporters, "The policemen kept on thrashing my son; they kicked him and caned him in front of my eyes and hurled filthy abuses at me when I pleaded before them to spare my son as he had no clue about the elopement."
She added, "By Sunday evening, when my son was half dead, they told me to take him away. We rushed him to the hospital, where he succumbed to his wounds this morning."


The boy's death infuriated the villagers who went on a rampage, storming the neighbouring police outpost, burning down a police jeep and staging road-blocks to mark their protest against what they termed as "gross police atrocity."
Apart from demanding suspension of the cops involved in the brutality, they also sought a compensation of Rs 5 lakh for the family of the victim.
Ghazipur Superintendent of Police Umesh Chandra Srivastava told rediff.com over telephone, "Action would be taken against the policemen provided they are found guilty of the charges levelled against them. Meanwhile, we have ordered an inquiry."

He pleaded, "The police had taken Ghanshyam for questioning as the eloped girl's family had mentioned his name in the FIR."
District Magistrate Chandra Pal Singh had sanctioned an ex gratia compensation of Rs 250,000 to the family of the victim.

"The money will be paid after the post-mortem of the boy," he told reporters.
Meanwhile, cops have failed to track down the young couple who had eloped