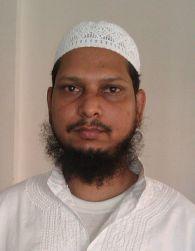 Khalid Mujahid, key accused in the 2007 Faizabad blast, died on Saturday while being transported in a police van from Lucknow to Faizabad after attending a court hearing in the Uttar Pradesh capital.
Even as the state police attributed Khalid's death to a "sudden heart attack", Chief Minister Akhilesh Yadav has ordered a high-level probe to be carried out by a committee comprising a secretary-level officer and an additional director general of police.
Thirty-year-old Khalid was among the two Muslim youth who were believed to have been falsely implicated in the case pertaining to the November 23, 2007 blast in the Faizabad court premises, leaving two dead.

And even as the Akhilesh government had formally taken a decision to withdraw their terror cases, a Barabanki court turned down the government request for such withdrawal earlier this month.
Khalid was brought to Lucknow for a court hearing after which he was on way back to Faizabad where he was lodged in the district jail. He suddenly fell ill after crossing Barabanki town near Ram Snehi Ghat and by the time cops rushed him to the local hospital he breathed his last.
In keeping with the Samajwadi Party election manifesto, whereby promise was made to save innocent Muslim youth from undue harassment the Akhilesh government took a policy decision to withdraw all such cases where such a suspicion was aroused.

The move was seen as one aimed at consolidating Muslim votes.
As such, the state government on April 26 moved an application before the special court in Barabanki for withdrawal of the cases against the two accused. However, the plea was turned down by the court, when it came for hearing on May 10.

The trial was being held in Barabanki because both the accused were arrested there.
Apart from citing technical reasons, the court held that the request for withdrawal of such serious cases did not appear to be in public interest.
It may be recalled that the Special Task Force claimed to have arrested the two youth from Barabanki on December 22, 2007 in connection with the blast in the Faizabad court premises on November 23, 2007.
However, their families charged the cops of picking them up from their homes in Azamgarh and subsequently showing their arrests from Barabanki.

Even an independent R D Nimesh Commission set up by the former Mayawati government had expressed doubts over the police claim.