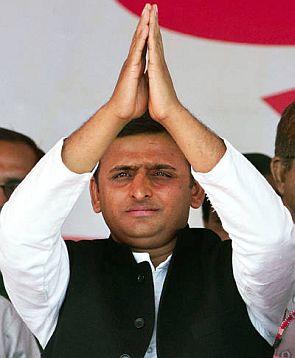 Claiming there was nothing religious about Vishwa Hindu Parishad's 84 Kosi Yatra, Uttar Pradesh Chief Minister Akhilesh Yadav today described it as a "political drama" which his government had not allowed to be staged.
"VHP's yatra is not a religious one, but a political drama," Akhilesh said while talking to PTI at his residence today.
"It was planned ahead of the Lok Sabha polls and the state government has not allowed it to be staged," he added.

Justifying the government's decision to ban the yatra, Yadav said, "It (the ban) was necessary as the yatra was not religious but a political one which could vitiate the communal atmosphere in the state.
"We have banned the yatra after reviewing the situation and all the aspects," he said.
As to VHP leader Ashok Singhal having met him and his father, SP supremo Mulayam Singh Yadav, before initiating the yatra, Akhilesh said, "Singhal had written a letter seeking an appointment. He met us and sought permission for the yatra.

"But when officials reviewed the request and went through religious traditions, they found there was no (precedent) for a yatra during Chaturmas," he added.
"Such a Parikrama or Yatra was never organised in the past 50 years and, as per Hindu belief, it is performed during 'Chaitra' (April), which has already passed," he clarified.

"In the name of religion, an attempt was made to use saints as a tool, only to fulfil political designs," he said.

Earlier in the day, the state government released 958 VHP workers, including Singhal while shifting Pravin Togadia and some others from Faizabad to Etah, a day after they were taken into custody for taking out a yatra from Ayodhya defying a ban.
"Singhal has been released after finding no threat for peace from him.... He has left for New Delhi", Secretary, Home, Sarvesh told reporters.
The development came soon after the Allahabad high court directed the UP government to release Singhal, Togadia and Jagatguru Rambhadracharya in case they have been detained beyond 24 hours on apprehension of breach of peace in violation of law.
Sarvesh said that of the total 2,454 arrested VHP workers, 958 have been released from different districts after assessment was made in his regard by respective district magistrates.
Asked about other VHP leaders, he said that Togadia, former MP Ram Vilas Vedanti and former MLA Lallu Singh had been shifted to Etah from Faizabad and have not been released till now.
"They and other VHP workers will be released when there will be no threat for peace from them," he said.
IG Law and Order RK Vishwakarma said that VHP held protests in Kanpur, Auraiya, Lucknow, Barabanki, Ghazipur, Bulandshahr, Jhansi, Aligarh besdies other district and there was no untoward incident.
About security arrangements, Vishwakarma said that borders of Ayodhya will remain sealed till further orders.