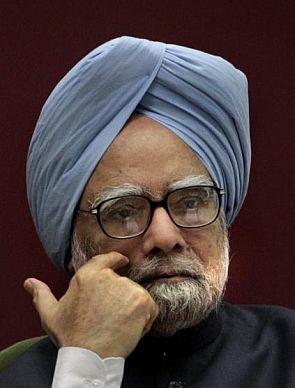 Prime Minister Manmohan Singh is down with fever, throat infection, cold and cough.

All his appointments have been cancelled, a PMO official said. He, however, termed it as 'a routine fever'.

The indisposition forced Dr Singh to skip the dinner hosted by President Pranab Mukherjee for the Union Council of Ministers on his completion of one year in office.
While a man of the age of the prime minister can fall sick at any time, a senior minister said it is unfortunate that it happened on a day when the President was completing a year in office.
President Pranab, who has been speaking of bringing the presidency and the Rashtrapati Bhawan closer to the people by making it a 'Janata Bhawan', spoke about his efforts to bring about consensus and harmonious functioning between various political parties, in the current surcharged atmosphere.
President Pranab has had a day full of engagements.

He inaugurated a statue of Mahatma Gandhi at the presidential palace, opened a library called the Pranab Mukherjee public library for the presidential staff and their children.

More significantly, he held a direct video conferencing session with all the governors, which is a first for the Rashtrapati Bhawan as it incorporates security considerations for which the security clearance would have had to be taken earlier.
With this facility, the President can speak face to face with governors, vice chancellors and others on matters of importance without the need for physical presence.

This is just one of the many innovative steps initiated by the Rashtrapati Bhawan.