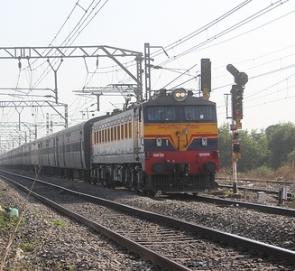 Two employees of the Indian Navy were found dead near a railway track in Visakhapatanam on Monday morning. Railway police officials said they had apparently been hit by a train while they were crossing a level crossing at Pinagadi railway station.
Railway Police Deputy Superintendent of Police Venkat Rao told Rediff.com that two employees of the ship building unit of Indian Navy -- Abeesh T Shivan and Cherian K Josh -- had left on their bike from the latter's residence in Katani Ngar near the airport around midnight.
The area around the level crossing is deserted in the night and there are no witnesses to the accident.
"The nature of injuries and the damage to their motor cycle shows that it was an accident and we don't suspect any foul play," Venkat Rao said.
The post-mortem was conducted at King George Hospital in Visakhapatanam. "We are sending the viscera for further forensic examination," the DSP said.
Both the victims were from Kerala. Abheesh's brother Ajish is on his way to Visakhapatanam to take the body to Okkal in Kerala. Abheesh is survived by wife Lekha and son Aryan.