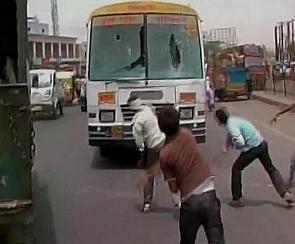 After two constables were shot dead by unidentified miscreants during a chase in the Ramgarh area in Uttar Pradesh, large protests erupted in the state.
The killings took place when the police duo, constables Dinesh Pratap Singh and Giriraj Kishore Gujjar, both in their early 30s, were chasing a group of miscreants last night at Sailai road, Deputy Inspector General range Vijay Singh Meena said.
Protests erupted in the city at Subhash crossing near the district hospital with locals demanding immediate arrest of those involved in the killing.

The protesters hurled bricks injuring people, including Meena, and several shops and vehicles were damaged. The angry mob blocked the road and also set a police vehicle on fire. They demanded that a case be registered against the Ramgarh station officer and also called for the removal of Additional Superintendent of Police,Rakesh Pandey.
Additional personnel have been rushed to the area where the protests are taking place.
The two constables were killed after they confronted goons, who were fleeing after carrying out a loot.
While Giriraj died on the spot after being shot, Dinesh was rushed to the hospital, where he died during treatment.
Following the incident, SO Ramgarh Ajay Kumar Yadav and Sub-Inspector Omar Farooq have been suspended, the DIG said.
A manhunt has been launched to nab the assailants but no arrests have so far been made in the case, police said.

Image: Protestors hurled bricks at a bus in Firozabad, Uttar Pradesh