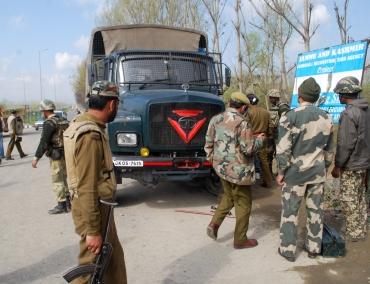 The Border Security Force on Thursday claimed to have identified a 25-year-old local whose interception and questioning triggered the protests at its camp in Ramban in Jammu and Kashmir.
The force claimed Mohammed Latif, son of Mustafa and resident of Dalwah in the area, instigated the mob leading to the situation where four people were killed and 44 others, including security personnel, were injured in stone-pelting and resultant firing.
Latif was intercepted in Daram belt of Gool tehsil and was questioned about his presence in the area. "It is learnt that this person put baseless and false allegation that BSF patrol party mistreated and desecrated the holy Quran and announced the same on the loudspeaker from the mosque after which a crowd of around 400-500 persons gathered and started stone pelting on BSF post Dharam," a BSF statement said.
The force said its troops "restrained from firing and informed local police of likelihood of deterioration of situation due to the violent actions by the locals." "Immediately police party arrived at company base Dharam and took stock of the situation. The crowd was dispersed at 3 pm," the statement said.
One BSF vehicle was badly damaged by the civilians besides inflicting injuries to many BSF persons. Protesters blocked all the roads going towards the BSF post and thus force personnel remain confined to the post, it said.
"It is learnt that efforts were made by section of protesters and they tried to attack on the post and to inflict injuries to the BSF and police persons compelling them to open fire in self defence," the statement added.