Donald Trump, the frontrunner for the Republican presidential nomination, has triggered an online rage with his tweet after a man wielding a meat cleaver tried to enter a police station in France claiming to avenge French military action in Syria, on Thursday, a year to the day since the Charlie Hebdo massacre.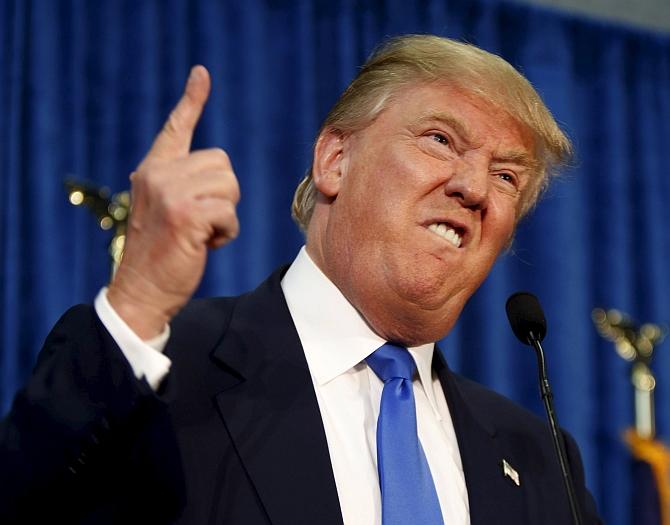 "Man shot inside Paris police station. Just announced that terror threat is at highest level. Germany is a total mess-big crime. GET SMART!" he wrote.
His words immediately led the phrase "Paris is in Germany" to start trending on Twitter as people online assumed Trump, 69, was implying that the French capital was located in Germany.
"I've realised there's no threat @realDonaldTrump will make it to UK He thinks Paris is in Germany. #getsmart," read a tweet posted to the verified account of Chris Bryant, a member of British Parliament.
The shooting in Paris happened on the anniversary of the horrific Charlie Hebdo attacks and involved a man who was allegedly trying to attack a police station, BBC reports.
At a glance, many of those commenting seemed to think "The Donald" appeared to have his European geography more than a little mixed up. But could a man attempting to become president of the United States really think Paris, capital of France (you're welcome), is in Germany?
But others were quick to defend him, pointing out that Trump was trying to talk about two separate ideas. It has been suggested Trump might have been talking about the mass crime in Cologne on New Year's Eve in which women 60 women were allegedly sexually assaulted by a gang of 1,000 men.
But then Trump ought to have 'got smart' and posted his views on two different tweets. So much for character limits!
Even before implying that Paris is in Germany, Donald Trump has faced plenty of controversies during his Presidential campaign. Last summer, he was slammed as a racist for claiming Mexican immigrants bring drugs and crime to America. These remarks led the Miss Universe pageant to sever ties with the business mogul.