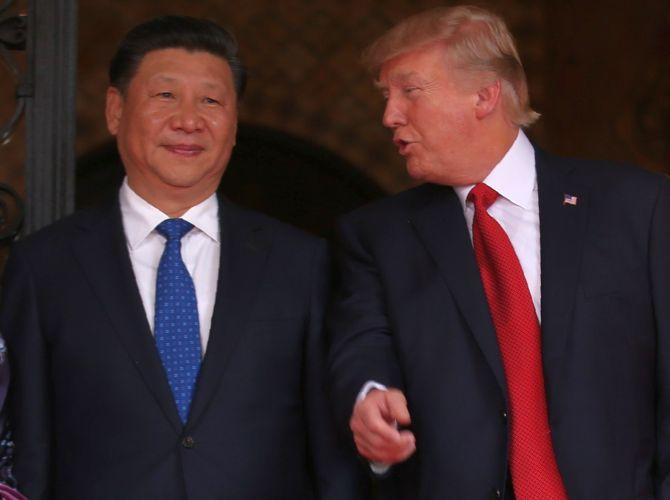 United States President Donald Trump is likely to visit China this year with an agenda to further improve the economic ties and 'reduce conflicts' between the two countries.
The move comes after the US-China relationship showed significant growth after Trump's first ever meeting with his Chinese counterpart Xi Jinping at the former's Mar-a-Lago resort in Florida last month.
Jinping had then told the US president that there were 'a thousand reasons' to make the Sino-US ties work and 'no reason' to break them.
He had also invited Trump to visit China during the meeting.
"President Trump is looking forward to and hopefully would be able to reach agreement in areas where we have not been able to reach an agreement today for the strengthening of the (US-China) relationship which will again allow us to try and reduce as much conflict and create more economic opportunities for the people," a senior Trump administration official said.
While no date has been fixed for the visit so far, it has been in the discussion stage for quite sometime now.
"It's something that we have been discussing. We have been making progress in our discussion. I think the US-China relationship is right now showing signs of really been stronger than it has been in the long time," the official said on the condition of anonymity.
"I think that stems from the fact that President Trump and President Xi (Jinping) were able to spend a lot of time together (at Mar-a-Lago) and find areas where there's a lot of common objectives. I think they have been working together towards those objectives.
"Both are leaders who do not think in short term, but in long term and are trying to create the right framework for the US-China relationship to last for the duration. I would imagine that he would make a trip to China," the official said.
Saudi visit: Trump to ask Muslim leaders to ban raising of funds for extremists
When Trump travels to Saudi Arabia to address the Muslim world this week, participating leaders would be asked to sign a pledge to make it 'illegal' in their country to fund outfits that promote extremism and terrorism.
Leaders of more than 50 mostly-Muslim countries, including Afghanistan and Pakistan from India's neighbourhood, are scheduled to attend the meeting convened by Saudi Arabia.
Trump would address the gathering on Sunday.
Such a pledge would have far-reaching implications on countries like Pakistan, where fundraising for terrorist organisations is common and at times supported by the ruling establishment.
While the pledge would be legally non-binding, it would be used for making these countries accountable by the Trump administration, which has made the fight against terrorism a priority, a senior administration official said.
"One of the other things (we are) doing on this trip is to get a lot of countries to sign a pledge to make it illegal in their countries to fund organisations that promote extremism and terrorism. Once we have that we are going to try to figure out where the grey is," an administration official said.
The official, who spoke on the condition of anonymity, said that White House has been working 'very hard' on this.
"Because we want the countries to make a choice, do you want to be good, do you want to be grey or do you want to be bad? We are not going to allow people not to choose their destinations. I am not saying that check this box. (But) we intend to go to these countries and say look you told us that you would do these things then these are the things that we see you doing to the contrary, are you going to stop them or now?" the official said.
According to the official, many of these countries are doing what they are doing because of the circumstances they are in.
IMAGE: US President Donald Trump, right, talks with Chinese President Xi Jinping at Trump's Mar-a-Lago estate in West Palm Beach, Florida. Photograph: Carlos Barria/Reuters