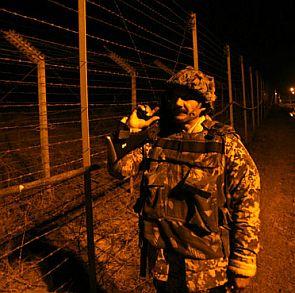 The border guarding forces of India and Pakistan have decided to resolve issues of ceasefire violations and firing along the border through a new dialogue mechanism between their local commanders.
Border Security Force chief Subhash Joshi, who led a delegation of his officials for bilateral talks with Pakistan rangers in the neighbouring country recently, on Friday said both the sides have agreed that the commanders of these forces on the ground should meet at regular intervals to thrash out issues rather than the higher-ups holding formal talks.
The new decision would mean that the field commanders can talk to each other promptly rather than wait for approvals from seniors every time. Specific cases would be dealt with according to old protocols.
Joshi said a host of confidence-building measures were discussed between the two forces, out of which the most salient point was the decision for quick repatriation of people who inadvertently cross the Indo-Pak border.
BSF officials said they witness an average of 60 such incidents of local people crossing over the border. "We have agreed to send back the inadvertent crossers as soon as possible. My force commanders have been instructed to undertake quick measures in facilitating the return of such people after it is diligently established that they had no ulterior motives," Joshi said on the sidelines of a BSF event.
The director general expressed the hope that these measures would help increase the confidence and friendship between the two forces.