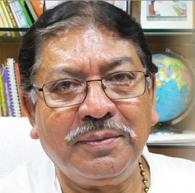 Dissident Trinamool Congress MP Somen Mitra on Friday said he has decided to leave the party and go back to the Congress, while stating he would resign from his Lok Sabha membership first.
"I have decided to leave Trinamool Congress and go back to my mother party Congress," Mitra, who was once the president of West Bengal Pradesh Congress Committee, said while inaugurating a Kali Puja in Kolkata. "But my morality prevents me from joining the Congress while I am still a Trinamool Congress MP, so I will first resign from my Lok Sabha membership and rejoin the Congress only after that," Mitra said.
"I have learnt from the mistake I committed by leaving the Congress and will rectify it. I will go back to my mother party," Mitra, who has been a heavyweight Congress leader in the state for long, said.
Speaking at the function organised by Congress councilor Santosh Pathak of Ward 45 of Kolkata Municipal Corporation, Mitra alleged that law and order situation in the state has fallen apart and said, "There has been no change in people's safety issues despite a change of regime after 34 years of Left Front's misrule."
A Congress member of the West Bengal assembly from 1972 to 2006 from Sealdah in Kolkata, he had left the Congress and formed a new party -- Pragatisheel Indira Congress in 2008, following differences with the party leadership.
In October 2009, he merged his party with the Trinamool Congress and went on to become an MP from Diamond Harbour constituency.
Interestingly, Mamata Banerjee had left the Congress to form Trinamool Congress in 1998 as a result of tussle with Mitra.
Mitra had joined the party, which had been formed by her once bete-noire Mamata Banerjee and the bonhomie continued till 2012. Mitra's wife Sikha, a Trinamool Congress MLA, had first spoken up about differences with the party leadership and the gap went on widening, leading to her suspension from the TMC for alleged anti-party activities.
Mitra and Sikha had recently shared dias with TMC Lok Sabha MPs -- Kunal Ghosh, Tapas Pal and Satabdi Roy -- where the latter three took a dig at the party leadership.