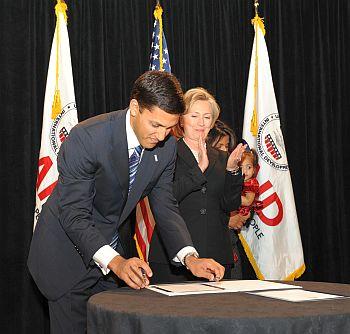 For Indian-American Rajiv Shah, who was officially sworn in as US Agency for International Development (USAID) administrator, development is a passion.
"Development is my passion," Rajiv Shah, 39, said after being sworn in by US Secretary of State Hillary Clinton as the administrator of the USAID.
With an annual budget of nearly $40 billion, USAID is responsible for almost all of America's non-military aid to foreign countries including Afghanistan and Pakistan.
"A powerful consensus has formed across this government, at the highest level, that development is vital both to our national security and the shared interests of an interconnected world," Shah said in his maiden speech.
"With a billion people living in hunger today, and with the growing threat of climate change threatening to make life even more precarious for the most vulnerable around our planet, we know the scale and complexity of these challenges continues to grow.
But we also today have the capacity to solve these problems much more significantly today than we ever had in the past. We have technology and experience. We have commitment and political will," he said.
So today, Shah said USAID stands ready to seize this moment.
"Now is the time for us to step up and deliver against ambitious goals that have been articulated by the president and the secretary: to improve lives and fight poverty; to expand human rights and economic opportunities; to build democratic institutions and improve governance; and in the process, to advance US foreign policy, to enhance our own prosperity and security," Shah said.
At a time when the country is facing economic challenges, Shah acknowledged that this will be hard.

"It will require us to make changes in how we operate, and to hold ourselves to higher standards of partnership and accountability. Especially during these tough economic times, we have to demonstrate that every taxpayer dollar we spend is spent achieving results," he said.

"And yet, we take on this -- we take on this responsibility with great confidence, because our success lies in the hands of the talented and dedicated men and women who serve this country at USAID."
Without naming India, Shah said the US helped spark an agricultural revolution that created the most dramatic increase in food production in history and helped its partner countries in Asia prevent massive starvation -- in fact, a former USAID administrator coined the term "Green Revolution".
"Now we have the opportunity, through the Food Security Initiative, to reverse the unacceptable trend that hunger has actually been increasing each of the last few years," he said.
"In this day and age, we have the ability to make sure that tens of millions of people, through more effective agricultural development and food system development, lead better lives," Shah said.

"And we've helped people advance democracy, human rights and good governance in places like Nepal, Ghana and Colombia. The lessons we have learned in all of these places will be incredibly critical to our work going forward in places like Afghanistan, Pakistan and Yemen," he said.

Referring to his experience in India before he joined the medical school, Shah said, "I was in one of those corners of the globe when I was volunteering on a programme, a development programme in a rain forest, in a village in South India, just before medical school. And we would go in these places in Jeeps and provide immunisations and other health benefits to kids in different villages. In each village they used to stop in front of the schoolhouse. That was where the families would gather for services and support."
"And I keep in my office a photograph from the inside of one of those schoolhouses, because above the chalkboard where these kids were learning were pictures of their three heroes: Mahatma Gandhi, Jawaharlal Nehru, and the founder of this great agency President John F Kennedy," Shah said.
"That's the power of sending our hopeful message around the world, to the farthest corners."
Image: USAID Administrator Rajiv Shah signs a document during his swearing-in ceremony.
Photograph: USAID