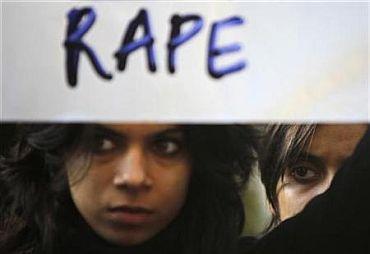 A 30-year-old Malaysian woman was allegedly raped by a business consultant in Jaipur, following which the accused was arrested, police said on Saturday.
The accused identified as Punit Jain and aged around 30 was arrested in the wee hours on Friday.
The woman was in touch with Jain regarding a project, which she had wanted to set up in the city, Deputy Commissioner of Police (East) Amandeep Singh Kapoor said.
They were together for the last couple of days before she was raped on intervening night of Thursday and Friday, he said.
The woman had arrived in Jaipur from Jodhpur on May 21 for a business trip.
"On Thursday, she had dinner with Jain after which he took her for a long drive. The woman alleged that he offered her cold drink laced with some drug and then raped her in the car," Kapoor said.
"A pistol was also recovered from Jain's car", he said, adding "He (Jain) is under police custody at Jawahar Circle police station and being interrogated."

Image: A protest against sexual assault on women in India