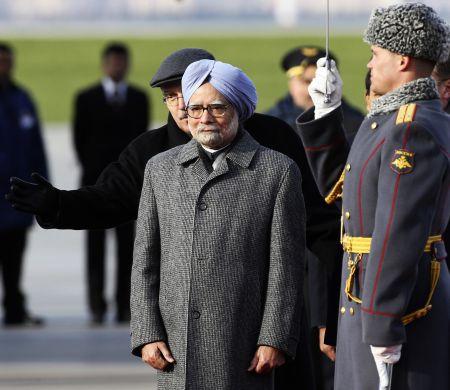 Rediff.com's Sheela Bhatt, who is accompanying Prime Minister Manmohan Singh on his visits to Russia and China, notes that Moscow and New Delhi work together professionally and via a shared approach on crucial issues.
If you are one of those who thinks that Prime Minister Manmohan Singh has been more inclined to take India closer to the United States of America, then it is time to take stock. Dr Singh has begun his fifth trip to Russia in nine years and has already checked in at Moscow's Hotel Ritz-Carlton.
Despite all the noise and tumult over the India-US nuclear deal in these eventful nine years, it is Russia that has the ongoing nuclear cooperation with India and is working for more.
On his arrival at Moscow's Vnukovo airport a few hours ago, Dr Singh said, "India and Russia share a privileged, special partnership and this is the 14th summit that is taking place (between the two countries)."
"We are going to review our partnership and its progress in diverse fields such as atomic energy, defence cooperation, space cooperation, science and technology, trade and investment and also review the international and regional development and how they impact on our two countries, how we can work together to keep the world safe for peace and prosperity."
There is no area -- be it space, hydrocarbons, making weapons and the nuclear trade -- where Russia and India do not work together.
Currently, the prime minister's office is tight-lipped about the micro issues that are yet to be resolved between Russia and India over the two new reactors at the Kudankulam Nuclear Power Plant in Tamil Nadu.
When the deal-making with Russia is under the scanner, the Government of India is working behind the scenes -- like the Russians do while fixing sensitive issues. Who will bear nuclear liability and how much, if a nuclear accident occurs, is being debated between the two sides.
And there is a huge difference -- the Russian pressure is invisible unlike the US pressure over contentious issues.
In a similar situation, columns after columns would have been written at Carnegie and Brookings and other US think-tanks over India's rigid stand; but in case of Russia things work without much ado.
Observers have no doubt that in spite of the issue of nuclear liability, which has a bearing on French and American companies as well, things will be resolved without premature leaking of information.
As defence expert Rahul Bedi noted on Rediff.com, Dr Singh's talks with Russian President Vladimir Putin on Monday 'will doubtlessly reconfirm India's dependence on Russian materiel.'
'India annually conducts $1,500 million (about Rs 9,186 crores/Rs 91 billion) worth of defence business with Russia and since the early 1960s has acquired military equipment worth over $40 billion (about Rs 244,960 crores/Rs 2.44 trillion) from Moscow,' Bedi wrote. 'This constitutes over 65 per cent of the Indian military's inventory.'
India and Russia are working closer not just on defence, but also on Afghanistan and West Asia, India's extended neighbourhood. Like on Syria, Dr Singh has walked pragmatically, keeping a safe distance from 'American adventurism.'
A senior government official, while speaking to journalists on Sunday, explained how Russia and India have a commonality of approach.
On Syria, the official said, "we have similar views. It is for the citizens of Syria to decide and not outsiders. Second, there are issues within Syria between different groups and political parties, etc. It has to be settled within Syria by the political process by the Syrians themselves."
The senior official negated the American stand on Syria, saying, "There is no military solution. Supplies of weapons are not conducive to the situation or solving it. The Russians have taken the Syrian situation a step forward. Remember, we had talked about Syria at the BRICS summit at Durban as well. India and Russia's approach to Syria is very similar."
On Afghanistan, the official said, "Both Russia and India are very concerned over Afghanistan. We believe any regression in Afghanistan, like going back to the source of extremism, terrorism or barbarism is a matter of concern. Russia and India are working together. There is fundamental commonality in the way we approach Afghanistan."
India and Russia will discuss the situation in Afghanistan on Monday. "Russia, India and China had discussed Afghanistan in February," the official said. "Our foreign offices talk about it regularly. This time, we will talk about it at the highest level."
On Monday, the ministry of external affairs said, India and Russia will sign six agreements and memorandums of understanding.
One is the treaty between the two countries about transfer of sentenced persons which will help 'facilitate the process of social rehabilitation of sentenced persons of the other country by providing the opportunity to serve their sentences in their country of nationality, under certain conditions.'
Another agreement is to facilitate closer technical cooperation in the field of standardisation with the aim of exchanging necessary information and expertise.
Also, for transfer of technology and to enhance cooperation in information technology, nano-technology, environmental sciences and alternate energy, both countries will sign an MoU.
Another MoU will be in the field of energy saving and energy efficiency.
On the eve of Dr Singh's departure for Russia, Petroleum Minister M Veerappa Moily, while defending businessman Kumaramangalam Birla in the coal scam case, said, 'India cannot become like Russia, where investors are not prepared to go and billionaires are put behind the bars.'
Such issues will not be blown out of proportion between Russia and India.
As former ambassador to Russia Ronen Sen told Rediff.com, "Despite occasional hiccups and problems, this relationship is the closest and most resilient relationship between any two countries in the last 60 years of world history."
Image: Prime Minister Manmohan Singh at the welcoming ceremony at Moscow's Vnukovo airport on Sunday. Photograph: Sergei Karpukhin/Reuters