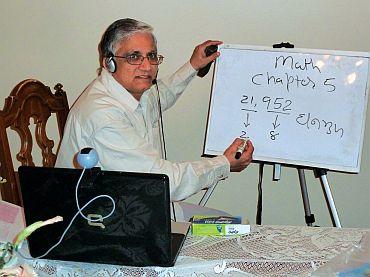 Years ago, Chiman Delwadia, who was visiting Ajab, the Gujarat village he grew up in, was reminiscing with a fellow Indian American about their school days and the influence of Mansukh Upadhyay, a teacher who paid individual attention to the students and urged them to succeed despite the poor facilities at the school.


"My friend also said that we have prospered abroad and the foundation that was laid out in our village by dedicated teachers played a big role in our progress in America," Delwadia recalled in a phone interview from Birmingham, Alabama.

"My friend then asked me if people like us were doing enough for the towns and villages that gave us the education."


The answer to the question came about two years ago when Delwadia, 58, who works as a system engineer for utility company Southern Company Services, began teaching math to nearly 36 students at the Shri Krishna Vidya Mandir in Ajab through the web.

He helps students solve problems and he gives them homework to boost their knowledge of math.


"I was pained to see that education in government schools was pathetic," he said, adding, "In India, there is a free education but it is not quality education and there is a quality education but it is not free. At the same time I also knew that one did not need a whole of lot of money and time to help these children, who invariably came from poor families."

Setting up the television monitor and related costs came under $1,000, he said, adding that two other educators who have joined him also offer free services.

"We stay with the class for at least two years," he explained. "We have also been teaching English and physics, and we hope to increase the number of subjects taught over the next few years when we have more volunteers."

Like Delwadia, Alabama-settled research associate Kalyani Jani, and medical technologist Tara Roy each spend about four hours a week preparing for the class, supervising the tests and teaching over an hour every week.

Delwadia and associates have provided a wireless microphone to the students so they can ask questions to the teacher and a small writing board so the students can write answers on it and point to the web camera.

'The students are always eager to attend online classrooms as it provides a new and innovative approach to their study,' Ashvin Ratanpara, who helps to run the programme in the village, told The Times of India.



Several children interviewed by the
Times
said their math scores have gone up considerably, and they enjoy the challenge of online learning.
Delwadia said the students will continue to be vigorously challenged and tested and there will be solid efforts to stop them from cheating in the tests.
The plans to make the project more effective include dividing a class into small groups, with each group of five to 10 students with the same skill level.
"Teach these groups a lesson and then to produce a video of this lesson on the
YouTube
public site," he suggested.
"Students can watch these videos later at their convenient time and learn at their own pace. Then, students have to record their learning experience on the progress sheet with a colour code -- red = did not understand, yellow = partially understood, green = fully understood. This helps us to schedule a class of the students of the yellow and red colour codes to bring them at the green level. For testing their knowledge, we are producing individualised quizzes and exercises for each student for each chapter using computer programmes."
His team will change one of the terms of each text exercise by multiplying (or adding) it with student ID. Thus, a student will not be able to copy an answer from the other student or from the answers in the back of the text book, he added.
Each student will work on his/her work assignment separately and submit it to the administrator. The administrator will record each student's progress on the progress sheet with a colour code -- green = finished without anybody's help; yellow = finished with some help from others; red = finished but did not understand.
A student who has a problem can call a group member or the teacher and learn from them, Delwadia said.
"Nobody should left behind and each and everyone must learn and progress at his/her own pace," he added. "Allow parents to watch the progress report of their child on the learning centre web site."
Where would he like the project go in three or four years? "With more volunteers," he said, "we would like to collaborate with other schools and private institutions and set up similar groups at their schools and institutions teaching them with our new concept. Ultimately, recruit students from low-income families into such groups at our learning centres and get free quality education."
Image: Chiman Delwadia takes a class