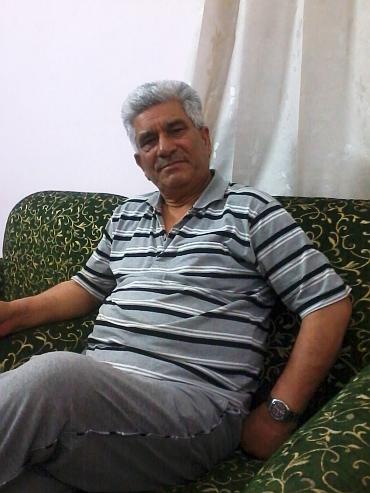 Educationalists and eminent cartoonists described the day as a sad day for the Indian democracy. It was the day when members of Lok Sabha flashed photocopies of a cartoon from Class XI textbooks, and argued that the cartoon hurt the sentiments of the Dalits and showed dalit leader B R Ambedkar in bad taste.
Members across party lines criticised the cartoon in unison. Human Resources Development Minister Kapil Sibal rendered an apology to the house members, and promised to delete all cartoons from schoolbooks.
But perhaps National Conference Member of Parliament Sharifuddin Shariq was the only person in the house, who stood up in the Parliament and asked Parliamentarians to 'look within' first.
Born in 1935 in Kashmir, Sharifudin Shariq holds a Master's degrees in Urdu language and literature, and has studied law from the Aligarh Muslim University. Shariq says his father was a teacher, and his was 'a poor-moderate family.'
He thinks his liberal outlook has been a consequence of a liberal upbringing by his eldest brother, a retired school principal. Both his parents died when he was still in school.
Shairq admits he has been into politics for almost 40 years now; he first contested election as an independent candidate in 1972 from Chhindwara in Kasmir. He lost the election, but joined the National Conference party the same year.
His maiden foray into the Lok Sabha came after the win in 2009 elections from Baramulla district in Kashmir, prior to which he has been a member of Rajya Sabha and the state Vidhaan Sabha.
On the cartoon row, he told Rediff.com's Priyanka, that many fellow Parliamentarians supported him outside the house, but nobody had the courage to stand up inside the house.
Were you surprised by the reaction of your colleagues?
Yes, I was surprised that everyone was speaking against the cartoons. People from all parties were against it.
It is my conviction that we fought for the freedom of people who did not know their human rights, who had no voice. We fought to give them their right to express.
Now, people express differently, by writing poems, or drawing cartoons. The literature is full of satirical poems and writings.
We politicians criticise everybody, but why should we hesitate if criticism pointed at us.
Did anyone from the Lok Sabha support you on your views?
There were many people who encouraged me when we came outside. But they did not stand up in the Parliament. I don't them know them personally, though.
So, the members supported you outside Parliament, but did not inside the Parliament?
All this is vote politics. They have no courage to speak out. They think they might hurt the Dalit community, and lose an important vote bank.
But the truth is, children tend to pick up things easily if it is being said in a cartoon. Because it is interesting for them and it invites their attention. What is wrong in that?
Also, I am very saddened that they will deleting all cartoons from the textbook now, or are banning the book. I feel this was hasty decision.
And were you asked to keep quiet by your own party members?
People from both sides wanted me to be quiet. But maybe my party thinks I am right. Both Omar Abdullah and Farooq Abdullah are in the city. If they wanted me to be quiet, they would have called me and said so.
Did you try to convince anybody?
No, whatever I said was in Parliament only. However, senior Bharatiya Janata Party Arun Jaitley told me that I did the right thing. But his party people were all on toes at that time.
In your opinion, what do you think the government should have done?
The government should have stood up to the opposition and say that cartoons have been suggested by top educationalists of India, and any decision to remove them would be after putting things before them.
They panicked and they succumbed to the pressure and said the cartoons will be banned or deleted, about which I feel is very sad.
What is your stand on it?
It is not right the decision. I think we should look within ourselves first. 
If people are pointing fingers at us, then there must be a reason for it. There is a moral degradation in our system now, and everybody is interested in is making only money, whether it is legal or illegal.
And I feel cartoons put it across very nicely. There are a few cartoons that I really enjoyed and remember them vividly.
In one, a politician goes to file his nomination papers, and declares his assets of 50 crore. A kid standing nearby asks him why he wants to contest if he already has so much money.
When Sheik Abdullah was appointed as the chief minister of Jammu and Kashmir, there was a cartoon with him bowing before former Prime Minister Indira Gandhi, and she was shown putting a crown on his head. I still remember clearly, Sheik saab laughed his heart out on seeing this cartoon.
Tolerance is the first pillar for democracy, especially when our society is multi-lingual and multi-cultural. In those times, whenever the opposition was hard on Pandit Nehru, he used to enjoy it. But this isn't so anymore.