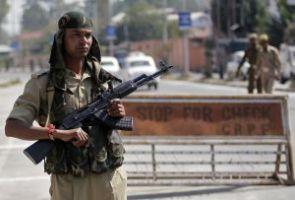 Four persons, including two civilians, were killed when militants attacked a Central Reserve Police Force camp in Shopian district of Jammu and Kashmir today.
Unidentified militants opened fire at the CRPF camp at Gagran in Shopian, 52 km from Srinagar, at around 1.00 pm and the security personnel retaliated, Inspector General of CRPF, Nalin Prabhat told PTI.
Two suspected militants and as many civilians were killed in the incident, IGP Kashmir A G Mir said.
He said the identity of the suspected militants is being ascertained. Some weapons have been recovered from the scene.
Prabhat said there were no casualities among the security personnel in the attack which was repulsed.
The CRPF officer, however, refused to comment on the deaths saying police are the investigating agency.
Protests erupted in Shopian town and adjoining areas soon after the incident as the residents questioned the version of the security forces.
The protesters pelted stones at the local police station and clashed with security personnel at several places, officials said.
Police and paramilitary personnel fired teargas shells and used batons to disperse the protesters, they said.
Senior civil and police officers have rushed to the town and efforts are on to restore law and order, the officials said.