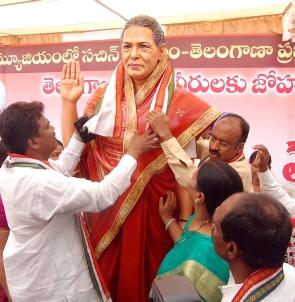 Cracking the whip, the Congress on Tuesday expelled six Lok Sabha Members of Parliament from Andhra Pradesh who had opposed the creation of Telangana and had given a notice of no-confidence motion against the government.

The MPs expelled by Congress President Sonia Gandhi are Sabbam Hari, G V Harsha Kumar, V Arun Kumar, L Rajagopal, R Sambasiva Rao and A Sai Pratap.

"Congress president Sonia Gandhi has approved the decision of the disciplinary committee of the AICC to expel the six MPs from Andhra Pradesh with immediate effect," said All India Congress Committee general secretary Janardan Dwivedi in a press release.

The move comes days after the Union Cabinet cleared the proposal for the bifurcation of Andhra Pradesh and the creation of Telangana.

There have been indications from the government that the bill on Telangana will be brought before Parliament in a couple of days.

Sabbam Hari and some other members had given a notice of No-confidence Motion against the government a few days ago. Hari has also threatened self-immolation if the state is bifurcated.

With the decision to expel the MPs, Congress is apparently trying to send a strong message to party members, including Andhra Pradesh Chief Minister N Kiran Kumar Reddy, who are fiercely opposed to the creation of Telangana.

Both the party and the government have repeatedly reiterated their commitment to the creation of the separate state.

Meanwhile, contrary to earlier expectations, the Telangana bill will now be introduced in the Lok Sabha first instead of the Rajya Sabha, with the government seeking a fresh recommendation from the President after the Upper House secretariat has held it as a money bill.

Sources said the move comes after questions were raised over the constitutionality of introducing the bill first in the Upper House.
Image: Pro-Telangana Congress members unveil a statue of party president Sonia Gandhi ' Photograph: SnapsIndia