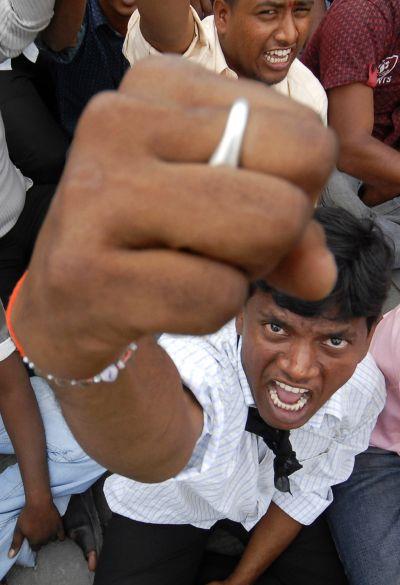 Andhra leaders are readying for a stormy session over Telangana on Friday. Vicky Nanjappa reports
Andhra Pradesh will witness some high drama on Friday, as the climax for the formation of Telangana commences. The reorganisation bill for the formation of a separate state is on the assembly's agenda.
Leaders from the Seema-Andhra belt are expected to create a ruckus to ensure that no debate takes place. D Sridhar Babu, who was stripped of his legislative affairs portfolio, is expected to resign from the Cabinet. Others are likely to follow.

The Seema-Andhra MLAs feel that allowing a debate to take place is as good as supporting the Telangana movement.
Telangana leaders are however not perturbed and know for a fact that this discussion is just symbolic and will have no consequence on the President's approval of the bill, which will be then sent to Parliament.

A Telangana Congress leader told rediff.com, "We are just going to wait and watch. Let them create all the ruckus they want. We will wait for January 23 when the deadline for the assembly to submit its opinion ends."

"We have been told clearly by Digvijaya Singh that the Congress has come too far on this issue and it will not go back on Telangana at any cost. We were told that a special session of Parliament will be convened on January 23 and the Telangana Bill will be passed in a day. Majority of the parties in Parliament are in favour of Telangana we have been told," he added.

Image: A Telangana supporter shouts during a protest demanding a separate state