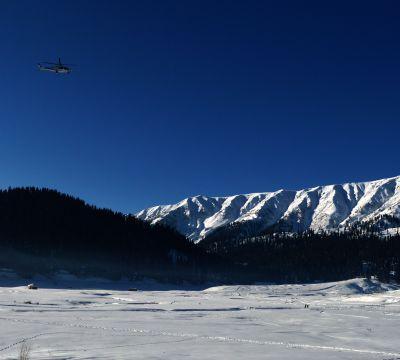 A Swiss skier was killed and two others wounded by an avalanche in the north Kashmir's ski resort Gulmarg on Friday afternoon.
The avalanche was triggered after days of heavy snowfall in the mountain resort, 54 kms from capital Srinagar, killing the Swiss skier on the spot and injuring two others.
"A rescue operation was launched immediately and the two injured skiers were evacuated to hospital for treatment," a senior police officer said.
"The body of the dead skier identified as Arno Roy has been sent for autopsy," the officer said.
The officer also said the skiers had strayed into an avalanche prone area where skiing is not allowed.
A world famous ski-resort, Gulmarg every year attracts skiers from across the globe during the winter.
Image: A rescue helicopter seen over a snow-covered Gulmarg on Friday
Photograph: Umar Ganie