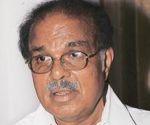 In a setback for Rajya Sabha Deputy Chairman P J Kurien, a court in Kerala has ordered issue of notice to him on a criminal revision petition filed by the Suriyanelli rape victim.
The Thodupuzha sessions court Judge, Abraham Mathew, admitted the plea and issued notices to Dharmarajan, a prime accused in the case, and two other accused Jamal and Unnikrishnan and the state government.
The petition has been posted to May 29.
The court said Dharmarajan, who is presently lodged at Thiruvananthapuram Poojapura jail, should also be produced in court on May 29.
The petition was filed by the victim challenging the dismissal of her earlier complaint filed before the Peermedu Judicial First Class Magistrate court seeking further investigation into the 'involvement' of Kurien in the case.
The victim's advocates also produced before the court the 'revelations' made by Dharmarajan to a television channel shortly before his arrest recently after he had jumped bail, that he had escorted Kurien to a guesthouse on Feb 19, 1996 where the girl was allegedly sexually exploited.
The victim had filed a complaint before the Peermedu court on March one this year against Kurien on the basis of Dharmarjan's revelations.
She had last month filed a complaint in a police station at Kottayam against Kurien, seeking that he be made an accused in the case. That complaint was not registered.
The Suriyanelli case once again came into the limelight after the apex court recently stayed the Kerala High court judgement of 2005 acquitting 35 accused in the case and asked them to surrender before the special court. The apex court had also stayed the high court judgement reducing the life term awarded to Dharmarajan.
Dharmarajan, who had jumped bail, was recently arrested from Karnataka and sent to jail to undergo the rest of his prison term. Kurien has maintained that he had been cleared of the charges by the apex court.
Following the Supreme court order, the victim had also sent a letter to her advocate seeking to explore the possibility of filing a review plea in the apex court seeking a fresh probe against Kurien.
The victim had filed a petition in the high court seeking to appoint two special prosecutors to conduct the case. The petition has been posted to April 2 for hearing the government's views.
She had submitted that the Director General of Prosecutions had given her 'adverse' legal advice in her complaint against Kurien and that she would be 'greatly prejudiced' if he conducts her case.