Rukmini Devi: Destined to dance
Krishnanveni Lakshman was just three years old when her parents moved to Madras. Her initiation into dance began at the age of five. She continued to be associated with Kalakshetra till she retired as its principal at the age of 58.
She was awarded the Rukmini Devi Medal for excellence in Arts for 2003. The award was instituted in 2001 by the Centre for Contemporary Culture, New Delhi. Sarada Hoffman, one of Rukmini Devi's early students and now a well-known danseuse, was the first recipient of the award. Professor C V Chandrasekhar, former dean and head of the department of dance, Maharaja Sayaji Rao University, Baroda, was honoured with the medal in 2002.
Rukmini Devi had said about Krishnaveni, 'Here was a girl born to be a dancer... with an inborn quality to embody the spirit of Andal (a reincarnation of Goddess Lakshmi and an embodiment of bhakti) and Sita forever and ever.'
Krishnaveni Lakshman pays tribute to her guru: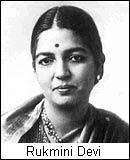 My father worked at the Besant Theosophical High School, so our whole family migrated from our village in Palani to Madras in 1945. I was just three years old then. I would roam around in the campus of the Theosophical Society where Rukmini Devi taught her students. I would peep through the window, come home and imitate the dance movements.
One day, an amused Rukmini Devi saw me watching and imitating her and asked, 'Are you interested in dancing?' I said yes immediately. She told my father I was very talented and she would teach me.
I began attending her class from the age of five, though I could not formally join Kalaskhetra until 1950, when I became eight years old.
I watched her compose and perform her first two dance dramas, Kutrala Kuruvanji and Kumara Sambhavam. I was a child then, but I will never forget the last scene in Kumara Sambhavam where she used to sit in a particular pose next to Lord Siva. She looked so beautiful, dressed in a yellow sari and bedecked in jewellery. By the time I met her, she was in her forties. She had become a little plump, but she was still extremely beautiful.
I was fortunate to do her part in Kutrala Kuruvanji. I also got to sing the song she had sung in the drama. I felt proud to be able to follow in her footsteps. She saw the performance and complimented me, 'You did wonderfully well!'
From 1954 onwards, I began playing the leading lady all Kalakshetra productions. In Usha Parinayam, I was Usha.
Rukmini Devi decided everything for us. When she told me, 'You are not old enough for a diploma from Kalakshetra,' I continued to learn. Then, one day, when she thought I was ready, she said, 'Now you are eligible for the diploma. I am going to give you your diploma this year.' Another day, she told me 'You are ready to do your arangetram this year'. She decided everything for me. We never demanded anything. Our life was art and only art; there were no distractions.
Her first production with us, the youngsters, was Sita Swayamvaram. I was one of Sita's sakhis (friends). She made sure all of us learnt all the roles. We were supposed to sit and watch when she taught the others. She wanted us to learn how she took classes. This was part of the curriculum.
We used to travel all over the world with her and each experience was unforgettable. My first trip abroad was to Singapore in 1963. She used to teach us teenagers everything. This included things like how to conduct yourself, how to make friends, how to talk politely to the guests, how to dress up, how to use a fork and knife, what to eat, what not to eat, table manners, etc. We used to attend many official dinners and receptions. She liked simplicity but was particular we should be attractive and elegant. She would wear simple yet beautiful silk saris and very little jewellery. She would take some of us to press conferences and tell us, 'Listen to how I answer the questions.' She made sure we answered some of the questions.
She moulded us into not just dancers but good human beings and artistes as well. She was our role model. We learnt the importance of discipline, punctuality and dedication from her.  
I was given to her at the age of three. From then on, till her last day, I was with her. I was with Kalakshetra till the age of 58. I spent 55 years of my life there. I began as a student. Then I became a tutor, a lecturer, a professor until finally I became the principal [1998-2000].
Rukmini Devi wanted her students to learn from the best artistes. She preferred elderly teachers because she believed that, with age came experience and experience taught patience. So she used to invite artistes who were over 60 years old to teach us.
When Balu Bhagavathar taught at Kalakshetra, he was more than 70 years old. When Gowri Amma, the dancer of Mylapore temple, came to teach us Bharatanatyam, she was 80.
There is a difference between the Kalakshetra Rukmini Devi started and nurtured and the present government institution. After her death, they had to give it to the government mainly because of the financial situation. The donations that poured in when she was alive stopped after her death. Kalakshetra faced difficult times. Sankara Menon, who took over after Rukmini Devi, was very old. It came to a point where there was no money to pay the teachers. So it was handed over to the government with a heavy heart in 1993.
One of the first rules the government made was that teachers should retire at 60. This was totally against what Rukmini Devi believed in. Imagine, people like Sarada Hoffman had to retire from Kalakshetra! Luckily, they have not interfered with the curriculum. I believe Kalakshetra should have remained a gurukul or should have become a University under the University Grants Commission.
Krishnaveni Lakshman spoke to Shobha Warrier.
ALSO SEE
Shanta Dhananjayan: 'Rukmini Devi was a banyan tree under whom everyone flourished'
Adyar K Lakshmanan: 'No one can take her place'
Krishnaveni Lakshman's photograph: Sreeram Selvaraj
Image: Uday Kuckian