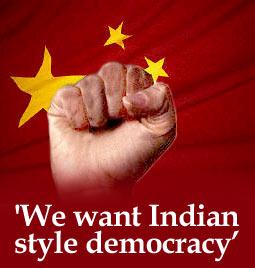 Part I: 'China is the cruellest country in the world'
Part II: 'Death Awaits us in China'
We want a separate country. We don't want to establish a theocratic state, but a democracy like in India."
The eight Uighurs, hiding in Delhi, pray the Indian government will let them leave for Europe before Beijing demands their extradition as terrorists.
Wanted by the Chinese police for anti-China activities, these eight men from the country's northwestern  Xinjiang province escaped and now live in Delhi as refugees.
Xinjiang's 20 million people, mostly Uighur Muslims, want a separate country as the Chinese allegedly captured it 55 years ago.
"The world does not know about our plight," laments Abdushakar, 31, listing  the "political, social and cultural suppression by the Chinese." The "media is biased. They don't give correct information."
The refugees say about 500,000 Uighurs are currently imprisoned in Chinese jails. Another 500,000 live as refugees elsewhere, mostly in Turkey and Germany. Many are forced to leave towns and live in the jungles of Xinjiang.
"My wife died in custody. My brother and father are in jail. My younger brother, sister and mother will be in the jungles if they are alive," Umar Aziz, imprisoned for four years for supporting the anti-China campaign, said. "That is how many people live."
The Uighurs have been fighting for an independent State for about five decades. The movement gained momentum in the 1990s after some 'terrorist' groups emerged. But following a massive Chinese crackdown, the movement is gradually losing steam. 
Xinjiang shares a border with Mongolia, Kazakistan, Kyrgyzstan, Tazakistan, India and Russia.
Why do the Uighurs want an independent State rather than be part of China?
"The first problem is religion," says Aziz. "We do not have the freedom to openly practice our religion and promote it."  
Children below 18 are not allowed to offer namaaz in mosques, he continues. Pronouncement of azaan (the call for namaaz) is not allowed from loudspeakers. People with beards are suspected as anti-national and terrorists. Women are not allowed to wear burqa. There is no Islamic seminary for religious education.
"They have designed every possible way to crush religion," says Abdushakur."We learnt about our religion from our parents. But everybody cannot. They want to dissociate children and young people from religion."
Besides, one cannot have more than one child.
"Women are imprisoned and fined for having more than one child. This is against our religion," said Abdushakur.
According to the refugees, Xinjiang is under-developed compared to the rest of China. There are few schools and colleges, and those too are beyond the reach of most. 
"The medium of instruction is Chinese. They don't teach the Uighur language. Chinese is a difficult language for us. This is one reason many don't want to study. They are not even encouraged by the State," said Abdushakur, a doctor of herbal medicine who knows a little English.
Xinjiang is rich in natural resources with vast reserves of petroleum, natural gas and minerals. But "we are not benefiting at all. The Chinese exploit all our resources. They are posted at coveted posts and we are mere workers," he says. "If we do business, we have to take permission from the government and pay huge taxes. There is so much of unemployment."
"We will be better alone," he says. "We have had enough of torture and humiliation. On one hand they have captured our country, then they call us terrorists. We are living as second class citizens in China."
"Both America and China increased their onslaught against Muslims across the world after September 11. They are branding everybody as terrorists. We are also feeling the heat," said Abdushakur.
Strongly critical of the terror attacks in US, he says the Uighurs have no links with the Taliban or Al Qaeda.
"Our borders are heavily guarded. How can we have any relation with Afghanistan? We don't subscribe to the idea of violence for gaining freedom. Ours is a peaceful struggle," he said. The eight refugees claim they belong to the East Turkestan Uighur Congress Party which does not believe in violence. But there are other outfits that do. 
The Uighurs want to establish an independent country of East Turkestan with its political capital at Kashgar and a cultural capital at Urumqi. They speak the Uighur language and are culturally close to Turkey.
They also have an old association with India. The founders of the Uighur movement -- Mohammad Amin and Isa Yosuf -- fled the country and came to India in the 1940s. The British allowed them to live in Srinagar for sometime. Then they went to Turkey to continue the struggle in exile. Many still live there as refugees. Yosuf's son Arkin Irp Thikin now leads the movement from Germany.
Describing the Kashmir problem as an "internal matter of India," Abdushakur points out, "we are more concerned about our problems now."  If they are allowed to leave India, he plans to join the anti-China movement in a third country like many of his comrades.
"We are highly inspired by India's democracy," he says. "We want this type of system in China."
Design: Rahil Shaikh