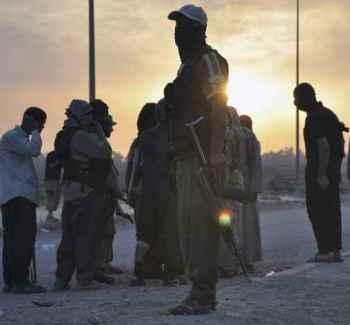 Many nurses hailing from Kerala are stranded in conflict-torn Iraq. Their families reveal the horror stories to Vicky Nanjappa.
As the Indian government makes all efforts to secure the safety and release of its nationals stranded in the conflict-hit areas of Iraq, horror tales are being reported by the families of these persons.
A majority of the workers stranded in Mosul and Tikrit -- major Iraqi cities now under the control of Islamic State of Iraq and Syria militants -- are nurses hailing from Kerala.
While some stranded Indians have told their families that they are safe, others fear that it's only a matter of time before they lose all contact with their loved ones back in India.
The extremists of ISIS, who aim to set up a caliphate across the Iraqi and Syrian borders, have gone on the offensive and have promised more bloodshed and devastation in the coming days.
"Fear has engulfed our lives and our daughter tells us that she has been stuck in hospital since the past five days," James, father of Jencyn who hails from the Idukki district in Kerala and is working as a nurse at a hospital in Tikrit, told Rediff.com.
"There is a power crisis and this means they will not be able to charge their phones and there is a good chance even the telephone lines will be cut off in Tikrit. My daughter says it's only a matter of time before she loses all contact with us," James added.
Similar complaints have been voiced by the other families whose daughters are stranded in Tikrit.
"My daughter says there's constant shelling (in Tikrit) and very often they hear loud explosions," another father said.
In addition to the 46 nurses, there are also around 15 Indians in Tikrit who are working in a construction firm in Iraq. The government is making efforts to evacuate them along with several others who are feared to have gone missing in the violence.
Ministry of external affairs spokesperson Syed Akbaruddin on Wednesday told a media briefing in New Delhi that 40 Indian workers in Mosul -- Iraq's second biggest city -- have been kidnapped. The Indians, workers at the Tariq Noor Al Huda construction company, were being evacuated when they were abducted by the ISIS militants.
The MEA has said there are nearly 100 people with whom they are not able to communicate and all efforts are being made to find their whereabouts and bring them back.
In all, there are around 18,000 Indians stranded in Iraq. The government, however, says the 46 nurses are safe and attempts are being made to bring them back safely.
While these nurses were told that they are free to leave, their safety could not be guaranteed if they left the hospital premises.
There is also a great deal of concern about those Indians who are working on the oil rigs in Iraq. The ISIS is making every attempt to take control of these oil wells and add to their assets which today is valued at $ 2 billion.
Prime Minister Narendra Modi too has been sent an SOS by the nurses who have sought the government's immediate help.
The PMO has assured of all possible help and also assured the families that they will be brought back safely to India.
The Indian government has asked its embassy in the United Arab Emirates to look into the matter since a lot of Indians are employed by UAE-based construction firms undertaking projects in Iraq.

However, there appears to be no problem for those Indians who are working in Baghdad. There are nearly 40 nurses working in the Iraqi capital and they have all reported home stating that they are safe.
However, their counterparts in Tikrit, who apart from complaining about the violence, have also voiced concerns about salaries which they say have been cut drastically.
The hospital which used to pay $700 a month now says they can only give $ 200 as there has been a change of government, the father of a stranded nurse said.
Image: ISIS fighters stand guard at a checkpoint after capturing Mosul
Photograph: Reuters