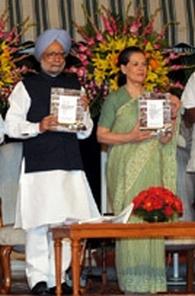 United Progressive Alliance Chairperson Sonia Gandhi and Prime Minister Manmohan Singh on Wednesday came down heavily on main opposition party Bharatiya Janata Party for disrupting Parliament proceedings and preventing crucial legislations from being passed.
"I cannot hide my deep sense of disappointment over the manner in which Parliamentary proceedings have been disrupted by the principal opposition party," Gandhi said at a function to mark four years of UPA-II's rule.
"We are disappointed that we have not been able to get crucial legislations enacted entirely because of this obstructionist approach (of the BJP)," she said.
Gandhi made a "fervent plea" to the BJP-led National Democratic Alliance and other opposition parties to come together and clear the passage of the Food Security and the Land Acquisition bills, saying these were "non-partisan" issues affecting the lives of millions of people and this was not a question of government versus the opposition.
"We need to be aware that there has been a calculated effort in some quarters to deliberately falsify and create innuendos to spread misinformation and untruths," she said, adding that there was a need to be alert against them and to counter these campaigns.
Maintaining that the prime minister has been subjected to "unrelenting hostility and abuse" by the Opposition, Gandhi said, "We respect and stand by him."
To questions on the BJP's attacks on the ruling UPA coalition and its four-year rule, the prime minister said, "What else do you expect from a non-result oriented opposition."
He said, "There is lot of motivated criticism. Sometimes there are attempts to derail us."
Strongly defending the government on the issue of corruption, the UPA chairperson said graft was an issue that "agitates us all and we are uncompromising in our approach."
"We have nothing to hide. We have nothing to feel defensive about," Gandhi said, urging partymen to counter the opposition campaigns "which aimed to confuse, demoralise and thwart the government's functioning."
Apart from the crucial legislations, the government needed to "impart new energy in some key areas" like the aapka paisa, aapke haath initiative, she said.
Among the UPA allies and its outside supporters present at the function were Nationalist Congress Party chief Sharad Pawar, National Conference Farooq Abdullah and Jammu and Kashmir Chief Minister Omar Abdullah, Rashtriya Lok Dal chief Ajit Singh, Indian Union Muslim League leader E Ahamed, Rashtriya Janata Dal leader supremo Lalu Prasad and Lok Janshakti Party chief Ram Vilas Paswan.
While Samajwadi Party chief Mulayam Singh Yadav gave the function a miss, Bahujan Samaj Party was represented by senior leaders S C Mishra and Brajesh Pathak.
BSP leaders were seated at the same dinner table as Sonia Gandhi, Farooq Abdullah, Pawar and Rahul Gandhi.
Image: Congress President Sonia Gandhi with Prime Minister Manmohan Singh at the UPA event | Photograph: http://pib.nic.in