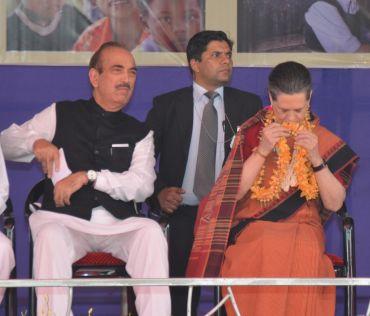 Congress president Sonia Gandhi, who was at Palghar in Maharashtra on Wednesday to launch the Rashtriya Bal Swasthya Karyakram as part of the National Rural Health Mission scheme, got a flowery surprise.
As per custom, schoolgirls from Palghar welcomed Gandhi with a garland of plumeria (champa in Hindi and sonchafa in Marathi), a fragranced flower grown extensively in Palghar and Vasai.
The schoolgirls also greeted visiting Union Health Minister Ghulam Nabi Azad and Minister of State Suresh Shetty with plumeria garlands.
So touched was Sonia on receiving the beautiful flowers that she directed her SPG bodyguard to keep them inside her car.
Minister of State Rajendra Gavit, also present at the function, said that plumeria flowers, also known as firangipani and extensively grown in these areas and majorly exported to Gulf countries, has an Italian connection.
The name of the flower originates from a 16th century Italian noble family, Gavit said, adding, "It's an honour for Palghar residents as Soniaji will always remember her visit thanks to these beautiful flowers".
Image: Sonia Gandhi smells a beautiful garland of plumeria flowers gifted to her by schoolgirls during her visit to Palghar on Wednesday
Photograph: Hanif Patel