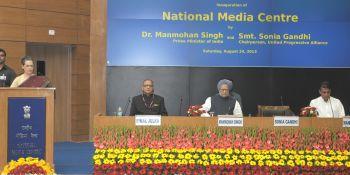 Congress President Sonia Gandhi on Saturday expressed anguish over the gruesome gangrape of a 23-year-old photojournalist in Mumbai.
"It is a heinous crime. I am saddened and pained over the gang rape of a photojournalist in Mumbai," she said interacting with reporters after inaugurating the National Media Centre in New Delhi.
The victim, an intern with an English magazine was allegedly gang raped by five men on Thursday evening when she and her male colleague went to the deserted Shakti Mills compound in Lower Parel area of Mumbai for taking photographs in connection with a story.
The Congress president also appeared to rule out early Lok Sabha polls, saying "our aim is to go till the very end".
She initially tried to steer clear of the question when asked by reporters whether Congress would go for polls after passage of landmark legislations like Food Security bill and the Land Acquisition bill.
"I cannot say anything," she remarked when another questioner put the same question.
But when persisted, Gandhi, who is also UPA chairperson, said, "Our aim is to go till the very end".
Interacting with reporters after inaugurating the National Media Centre, she expressed confidence that the UPA-III will come to power after the next polls, noting that the rights given to the people by the ruling alliance were its USP.
"Certainly. 100 per cent......obviously so many rights we have given. It is our right to information, right to education and now right to food is our USP", she said when asked about the possibility of UPA-III coming to power and what was the USP on which the elections will be fought.
To a query, she said hopefully the food security bill, which has been pending consideration for long, will be passed next week.
"How can I say?" she said when asked whether BJP will cooperate in its passage.
On the Telangana issue, she said that the AICC panel headed by A K Antony is hearing the concerns of those affected. She said government will also be setting up a committee, but did not elaborate.
Image: Sonia Gandhi addressing at the inauguration of the National Media Centre, in New Delhi on Saturday.
Photograph Courtesy: PIB