'No help from FBI on Dawood, Shinde is lying'
'Dawood is in Pakistan…It's ridiculous to expect the US to help us nab him.'
Former Union home secretary-turned-Bharatiya Janata Party leader RK Singh spills the beans on Union Home Minister Sushilkumar Shinde in an exclusive interview with CNN-IBN.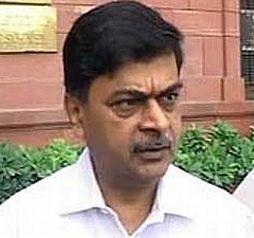 On bringing back Dawood with the Federal Bureau of Investigation's help:
Firstly, if a third country's intelligence agency is agreeing to help you, you don't talk about it in public. Secondly, the FBI has offered no such help. So this statement of bringing back Dawood with the help of the FBI is wrong.

There is no assurance from the FBI on Dawood, I was present at that conference with Shinde. He is lying.
Dawood is in Pakistan; he is under the protection of the Inter Services Intelligence.

To arrest Dawood you have to go inside Pakistan and to expect that an agency of a third country will help you in such an operation is ridiculous. So, I don't see any basis in it.
Click NEXT to read further…
Image:
Underworld don Dawood Ibrahim
'HM stopped probe of businessman liked to Dawood in match-fixing case'
On home minister's interference into stopping an interrogation of a senior businessman:
Again this is not an allegation; it's a fact. The police commissioner mentioned once that a senior businessman who had shady allegations against him had to be interrogated.

The home minister ordered the commissioner to not go ahead with the interrogation twice. Ultimately it seems that interrogation could not happen.

As far as I recall, I think it was in connection with an Indian Premier League match-fixing case and this businessman had some links with underworld don Dawood Ibrahim.
Click NEXT to read further…
Image:
A protester holds a sign during a campaign against corruption in New Delhi
Photographs:
Adnan Abidi/Reuters
'Shinde interfered in transfers of Delhi police'
On the allegations of Shinde lobbying on behalf of police candidates and corruption charges:
I have said this in the past that it's not an allegation; it's a statement of fact. This is regarding postings etc.

Shinde regularly interfered in Delhi police's work. Staff at Shinde's residence would send chits to the then police commissioner saying that a particular police officer should be posted to a particular police station. This happened in numerous cases.

The police commissioner himself told me that several slips were sent to him by Shinde. The police commissioner showed me the slips as well.
On checking with Shinde about these slips:

Shinde told me, 'People come to me with recommendations and in one or two cases we pass it on'. But it was not just one or two cases. These postings I think has a business angle to it. And I heard this was done in lieu of money.
On differences with Shinde:
My differences with the home minister are known to everyone. It was known to higher officials. It's not a new development. This is not something that has cropped up today.
Image:
A former police commissioner received several slip from Shinde regarding transfers, said R K Singh
Photographs:
Adnan Abidi/Reuters