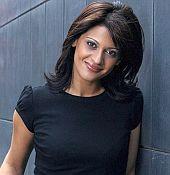 A BBC news anchor of Indian origin has been subjected to a deluge of personal abuse for presenting a documentary about 'Operation Blue Star', when the Indian Army barged into the Golden Temple in Amritsar in 1984.


Sonia Deol was forced to delete her page on social networking website Facebook amid a barrage of criticism from fellow Sikhs.


During 'Operation Blue Star', some 500 Sikh separatists and their controversial religious leader Jarnail Singh Bhindranwale, who were in favour of an independent state (Khalistan) for Sikhs, were holed up in the Golden Temple.


The assault was carried out at the orders of then Indian Prime Minister Indira Gandhi on June 4, 1984. During the attack, Indian soldiers stormed inside temple premises killing many separatists, Daily Mail reported.


Now protesters are planning a mass boycott of the licence fee in protest against what they claimed a slur on Bhindranwale, who was killed in the raid with many claiming he was depicted in the documentary in a similar way to Osama Bin Laden.


Many Sikhs, particularly supporters of Khalistan, consider him a saint and are furious that in Deol's documentary, 1984: A Sikh Story, he was described as a militant.


Bhindranwale and the armed supporters took refuge in the holy place, fearing arrest amid rising Sikh-Hindu tensions.

Deol, who hosts BBC Breakfast at weekends and News 24 bulletins, deleted her Facebook profile on Wednesday after the row escalated.
On Sunday, Dr Sadhu Singh, the Chairman of the Council of Sikh Temples, said: "They used pictures of him wearing a turban and holding a gun. To someone who doesn't know what Sikhism is about, it would be very misleading. Sikhs were attacked after September 11, but Sikhs are nothing to do with bin Laden."
"Some people are very upset that the documentary also showed Sonia Deol dancing with Hindus as if there is no problem between Hindus and Sikhs. The feeling is still there that people who were responsible for 1984 have not been brought to justice."
In fact, the BBC has received some 52 complaints about the documentary, which attracted 1.3 million viewers and was billed as Sikh presenter Sonia Deol's "emotional journey back to India in a bid to discover how such an attack could ever have taken place".
However, community TV station 'The Sikh Channel' has said it received more than 8,000 calls to a phone-in about the controversial film which contain "many sweeping statements and didn't attempt to uncover the truth of what happened".