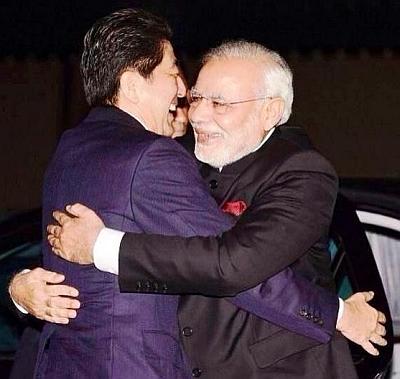 Lauding Japan's deep historical ties with India, Prime Minister Shinzo Abe on Sunday said he was looking forward to a summit meeting with his counterpart Narendra Modi in Tokyo on Monday after the two leaders spent time together in ancient Kyoto city visiting Buddhist temples.
"Looking forward to seeing PM Modi again in Tokyo," the Japanese PM tweeted.
In a series of tweets on Sunday, Abe spoke about his nation's "deep historical ties" with India. "I am very glad that PM Modi enjoyed the cultural heritage of Japan's ancient capital, Kyoto," Abe tweeted after praying at a Buddhist temple along with Modi in Kyoto.
"With PM Modi, I visited Toji temple this (Sunday) morning. Looking at statutes of Buddha, we were reminded of the deep historical ties between Japan and India," Abe said, adding that his dinner meeting with Modi was "very enjoyable".
Modi praised the cultural heritage of Kyoto city.
Kyoto, with around 2000 temples and shrines, has been at the crossroads of history since the end of the Nara Period (794 AD). It was the capital of Japan for over 1,000 years till the Emperor moved to Tokyo.
Modi, who represents Varanasi constituency in the Lok Sabha, wants to develop the sacred Indian city into a 'smart city' by using the experience of Kyoto. "My warmest welcome to Prime Minister Modi for his visit to Japan. Very enjoyable to have dinner together with PM Modi last night. Quite valuable to exchange views on topics such as Japan-India cultural exchanges and international affairs," Abe tweeted.
Setting the tone for their formal summit on Monday, Modi and Abe spoke about a "strong and robust future" for the bilateral ties between the two countries on Saturday night.
On the eve of his visit, Modi had said Japan has "paramount importance" in his vision for India's progress and his trip will "write a new chapter" in bilateral ties while taking the strategic and global partnership to the higher level.

Image: Prime Minister Narendra Modi embraces his Japanese counterpart Shinzo Abe