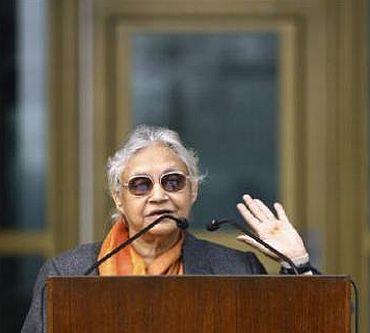 Sheila Dikshit, a former three-term Chief Minister of Delhi, has been appointed Governor of Kerala within three months of her defeat in the recent Assembly polls.
Highly-placed sources said late Tuesday night that the decision has been conveyed to 75-year-old Dikshit, who will succeed Nikhil Kumar, a former Delhi Police Commissioner.
When contacted, Rashtrapati Bhavan spokesperson said that Kumar had tendered his resignation which has been accepted.
Earlier in the day, Dikshit, a senior Congress leader, had met Union Minister Sushilkumar Shinde and the decision to make her Kerala Governor was conveyed to her
During the Delhi Assembly elections in December last, Dikshit suffered an ignominious defeat from New Delhi seat at the hands of Aam Aadmi Party (AAP) leader Arvind Kejriwal.
Kejriwal, who succeeded Dikshit and has since resigned over the Jan Lokpal issue, won by more than 22,000 votes. The Congress came a poor third bagging eight seats in a House of 70.

Dikshit served as Chief Minister from 1998 to 2013 in Delhi. She had also represented Kannauj Parliamentary Constituency of Uttar Pradesh during the period between 1984 and 1989.
Earlier RJD president Lalu Prasad visited home of 72-year-old Kumar in Patna setting off speculation of his contesting from Aurangabad Parliamentary seat.

RJD and Congress sources confirmed the visit of Prasad to seek the blessings of Kumar's mother Kishori Sinha and to meet the Kerala Governor. Kumar is the son of veteran Congress leader and former Bihar chief minister Satyendra Narayan Singh.
Kumar had taken over as Governor of Kerala in March last year after serving as Governor of Nagaland from October 2009.

He had lost the 2009 Lok Sabha elections from Aurangabad to Sushil Kumar Singh. Aurangabad with an overwhelming population of Rajputs is popularly called 'Chittorgarh of Bihar'.
The alliance between Congress and RJD is yet to be formalised after RJD chief offered 11 seats to Congress and 1 to NCP and sought a final response