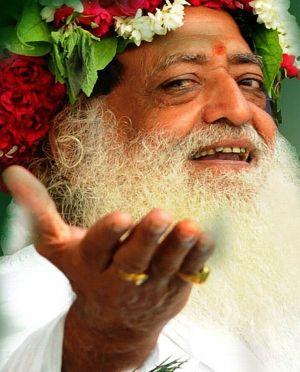 Controversial godman Asaram Bapu, who had been lodged in Jodhpur jail since August in a sexual assault case, was on Monday brought to Amhedabad for interrogation in a similar case registered against him in Surat.
72-year-old Asaram was brought in a flight by city police amid tight security.
Police sources said that he was taken to Anti Terrorism Squad office on the outskirts of Ahmedabad.
Surat Police had recently registered complaints filed by two sisters -- one against Asaram and another against his son Narayan Sai -- of rape, sexual assault, illegal confinement and other charges.
The complaint against Asaram was transferred to Chandkheda police station in Ahmedabad as the incident took place in Asaram's ashram.
The elder of the two sisters, in her complaint, had accused Asaram of sexual assault between 1997 and 2006 during the time she had been living in his ashram on the outskirts of Ahmedabad city.
The younger sisters had filed a complaint against Sai, accusing him of repeated sexual assault between 2002 and 2005 when she was living in their Surat ashram. The whereabouts of Sai are not known.
Both Asaram and Sai had filed petitions in Gujarat high court seeking quashing of sexual assault complaints against them. Sai has already filed for anticipatory bail in a court in Surat.
Asaram was brought to Ahmedabad via Mumbai for questioning about the allegations of rape, sexual assault and illegal confinement between 2001-2006.
The District and Sessions Court in Jodhpur had given permission to Gujarat Police to take custody of Asaram on Friday itself. However, fearing a backlash by his followers, Gujarat Police had waited for orders from their seniors on taking him to Ahmedabad.
Ahmedabad DCP Manoj Ninama had reached Jodhpur on Sunday with extra police force and took the decision on Asaram.