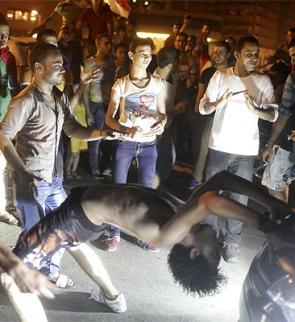 Senior Egyptian jurist Adly Mahmoud Mansour has suddenly found himself in the spotlight as the civilian face of the army-backed interim government, following the dramatic removal of the Arab country's first democratically elected president Mohammed Morsi.
The name of Mansour -- head of Egypt's High Constitutional Court -- was announced by army chief General Abdel Fattah Sisi, who says the military commanders had no desire to rule, clearly to allay fears abroad that this was a coup.
Mansour, 67, will hold executive authority as transitional president until new presidential elections are held.
"The armed forces were the one to first announce that they are out of politics. It (army) still is, and it will remain away from politics," General Sisi had said.
It is yet to be seen how much authority Mansour, who is highly regarded, will truly wield.
Mansour helped draft the supervision law for the presidential elections that brought Morsi to power in 2012, which included setting a legal timeframe for electoral campaigning.
He was appointed head of the High Constitutional Court last July following the retirement of justice Maher El-Beheiry, Ahram online reported.
Mansour was appointed in line with a new 2011 law, which stipulated that HCC heads should be appointed from within the court system.
For 20 years, the HCC head was chosen from outside the constitutional court. He has served as deputy head of the HCC since 1992.
Image: Protests against the government at Cairo's Tahrir Square | Photograph: Reuters